F-150 is top-searched vehicle in Canada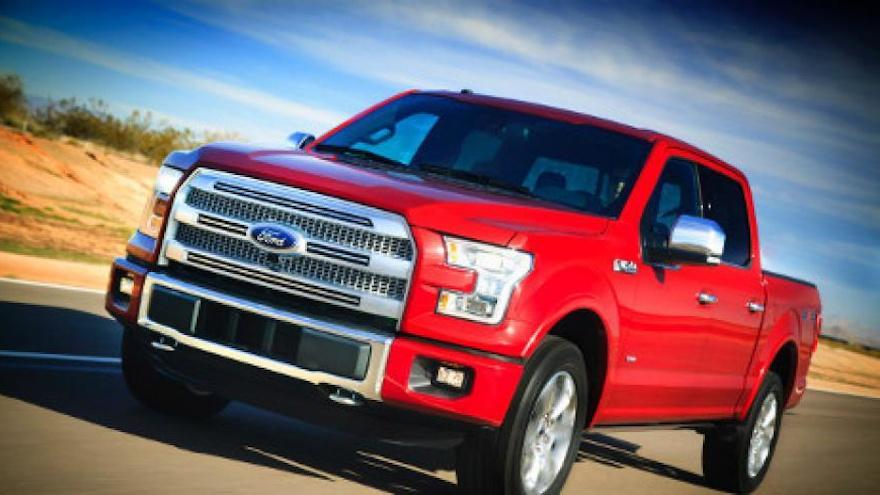 TORONTO -
Canadian automotive marketplace autoTRADER.ca says the global pandemic has not caused a slowdown in searches for luxury vehicles in Canada.
According to 2020 data from autoTRADER.ca, the company's annual top searched vehicles list noted what it described as "favourites from 2019, including the beloved Ford F-150, Honda Civic and Toyota RAV4 remained in the top 10."
Half of this year's list consisted of premium nameplates, which autoTRADER.ca says indicates a range in Canadian vehicle preference.
The first and second most searched vehicle brands on autoTRADER.ca this year were BMW and Mercedes-Benz.
"2020 marked a unique year for automotive shopping behaviours," autoTRADER.ca said.
The company tracked search data and also conducted ongoing consumer studies to measure how the pandemic affected Canadians. After the initial spring impact of COVID-19 across the automotive sector, the pandemic brought what the company described as a surge of car shopping activity and first-time buyers into the market.
As more Canadians stayed home this year, that brought a significant increase in Canadians shopping for cars, according to market data.
autoTRADER.ca experienced a record high of 25 million visits in a single month.
It also showed an increase of more than 21% in visits year-over-year.
According to the studies, the pandemic brought contributing factors such as decreased comfort regarding the use of public transportation and ride-sharing.
It also brought more desire for car ownership, and more time spent shopping online.
autoTRADER.ca editor-in-chief Jodi Lai said that for the sixth straight year, the Ford F-150 retains the No. 1 spot as Canada's top searched vehicle on autoTRADER.ca.
That is despite it being the only truck on the car-dominant 2020 Top Searched list, Lai said.
"The Toyota RAV4 stood as the solitary SUV, which is a bit of a surprise considering how popular SUVs are, while Canadian shoppers are still seeking luxury options like the Porsche 911, BMW's M Models, and the Mercedes-Benz E-Class and C-Class."
autoTRADER addressed what it described as an evolution of car shopper sentiment. Throughout 2020, the company conducted ongoing consumer studies to evaluate COVID-19's impact on Canadian car shopper sentiment and inform what might be expected in the future.
One of those findings was that Canadians are tapping the brakes on public transportation. autoTRADER.ca and Google conducted a study at the height of the global pandemic in October, showing that COVID-19 has had a direct and potentially lasting impact on sentiment toward public transportation and ride-sharing. According to the research, 28% of respondents stated they have purchased or plan to purchase a vehicle since the pandemic.
Almost half of that group (13%) attributed their purchase intent to the pandemic.
Fifty-four percent of Canadians who previously used public transit said they do not plan on using it post-pandemic.
In addition, 65% of Canadians do not plan on using ride-sharing services after COVID-19. The introduction of a vaccine could empower more Canadians to resume pre-pandemic transportation methods.
But for others, the impact could linger as the desire for personal modes of transportation remains.
Another finding: The subcompact car segment is dwindling. The year 2020 showed several auto manufacturers discontinued several models in the economic subcompact category. Those included the Honda Fit, Hyundai Accent, Nissan Micra, and the Nissan Versa. Instead, more consumers are opting for vehicles equipped with all-wheel drive capabilities and raised seating.
"Subcompact car availability is expected to continue to decline as the subcompact crossovers that are replacing them become less costly and more fuel efficient," autoTRADER.ca said..
Another finding was that 2020 was yet another big year for electric vehicles with more hybrids, plug-in hybrids, and full EVs listed across the marketplace. Green vehicles launched this year included the Toyota RAV4 Prime, Porsche Taycan, Audi e-Tron Sportback, Tesla Model Y, Hyundai Elantra Hybrid, Toyota Corolla Hybrid, Hyundai Sonata Hybrid, Ford Mustang Mach-E, and Ford F-150 Hybrid.
One more finding is that car shoppers are going digital. A portion of car shoppers still seek an in-person dealership experience, but a survey of autoTRADER.ca users showed that since the start of the pandemic, 71% are interested in buying a car digitally.
2020 top searched vehicles in Canada
1. Ford F-150
2. Ford Mustang
3. BMW 3 Series
4. Mercedes-Benz C-Class
5. Porsche 911
6. Honda Civic
7. BMW M
8. Chevrolet Corvette
9. Mercedes-Benz E-Class
10. Toyota RAV4