Facebook Marketplace enhances vehicle shopping category in Canada, UK markets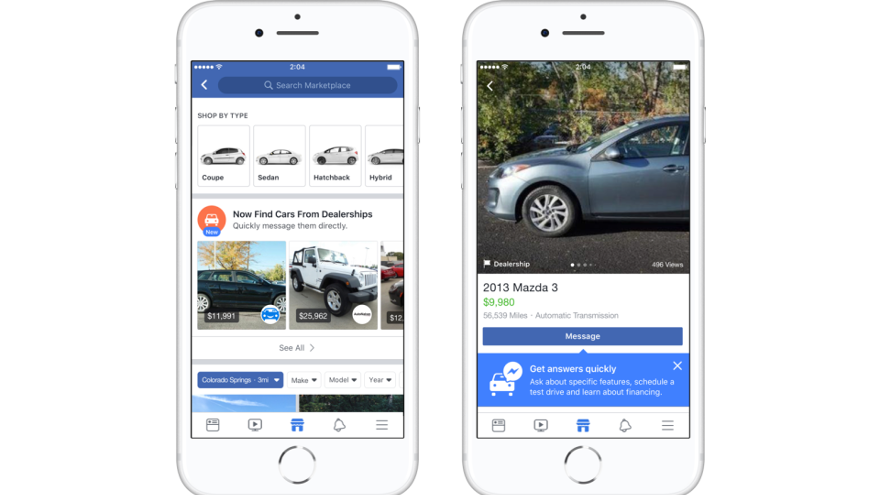 MENLO PARK, Calif. -
Facebook Marketplace has grown its vehicles category for buying and selling used cars online in both Canada and the United Kingdom.
Car buyers on Facebook in the two markets can now browse used-car inventory from automotive dealers through Facebook Marketplace listing partners Strathcom Media, CarPages.ca, CarMedia 2.0, Gubagoo and CDK Global.
The company announced Wednesday that an expansion of its vehicles category in Canada and the United Kingdom will follow recent U.S. market enhancements unveiled in October.
An enhanced vehicles section for the Canadian and U.K. markets gives car buyers access to useful research filters for year, make, model, mileage, vehicle type and transmission.
Additionally, buyers also can connect with dealerships in real-time from Facebook Messenger, as well. Facebook Marketplace has partnerships with live chat providers Gubagoo, ActivEngage! And Contact At Once!
According to Gubagoo, Canadian dealers using its ChatSmart platform can easily authorize Gubagoo to post their dealership's used car inventory to Marketplace within minutes.
Meanwhile, in the United Kingdom, Gubagoo reseller partner GForces will post inventory on the dealer's behalf, the automotive dealer communication solutions provider announced in a news release Thursday.
Along with the dealership's name and location vehicles, and the new separate listing will include a photo of the vehicle, a description, year, make, model, price, mileage, and VIN number.
"We have seen tremendous dealer interest in our Facebook Marketplace offering. It has really been a game-changer for our business," Gubagoo chief executive officer Brad Title said in a news release. "We are looking forward to driving even more interest with dealers in Canada and the UK."
Each month, over an estimated 800 million people visit Facebook Marketplace to buy and sell, according to the company.