FCA Canada Adopts XLane 'Virtual Inventory' Program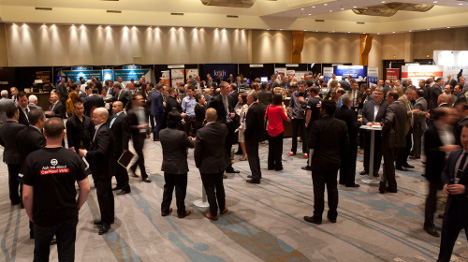 MISSISAUGA, Ontario and MONTREAL, Quebec -
Announced during the 2015 Auto Remarketing Canada Conference in Toronto last week, XLane Holdings Inc. will work as a technology provider to power a new Digital Showroom program for FCA Canada Inc.
FCA Canada — the inaugural winner of the Auto Remarketing Canada Tech Titan award — explained this new tool is designed to offer dealers access to "virtual auction inventory," or OEM program, fleet, daily rental and end-of-lease vehicles available at auction through a dealer's own website.
"XLane's Digital Showroom program is all about extending physical auction inventory to online retailing," Tave Della Porta, chief executive officer of XLane Holdings, told Auto Remarketing Canada.
The Digital Showroom product integrates with the participating dealer's existing website, enabling the dealership to display the virtual inventory next to their own.
The goal is to work toward building a national program that will be available at any regional auction across Canada.
"We are excited about XLane's technology and how it can be used to offer our dealers further solutions when it comes to the remarketing and retailing of used vehicles," said Eric Janca, national vehicle remarketing manager at FCA Canada Inc. "This program was put together to reward our valued dealers with a low cost, minimal risk solution to showcase and sell more used vehicles on their retail websites."
Under the current program, XLane digitally manages FCA Canada's vehicle condition reports and images from both participating ADESA or Manheim Canada auction sites. XLane then enables FCA Canada Inc. to virtually allocate vehicle condition reports and images to each dealer's Digital Showroom, giving each dealer the exclusive right to buy and sell allocated vehicles.
"When a retail consumer is interested in purchasing a Digital Showroom vehicle, the dealer may login to the control panel to purchase the vehicle from the allocated auction site," Della Porta said. "Depending on the location of the vehicle, the dealer can transact via XLane with either auction provider. This simplifies the purchasing process for the dealer within the program."
Both Manheim and ADESA executives expressed their support for the new program and FCA Canada Inc.'s move, as well.
Lisa Scott, senior vice president of sales, marketing and Atlantic Operations for ADESA Canada, said, "ADESA has always invested heavily in the online space to facilitate quicker and more efficient transactions. The partnership on FCA Canada's new Digital Showroom offering is a great example of how companies can work together to provide dealers with great opportunities for their business.
"FCA Canada Inc. is passionate about their exceptional vehicle line-up and is clearly committed to enhancing their dealer network's ability to source wholesale inventory and turn that into retail transactions. Supporting their franchise dealers in this way is an indication of a commitment to build and support a very strong brand," she continued.
And Trevor Enge, senior director of strategy at Cox Automotive Canada, asserted Manheim is committed to investing in tools and resources that make it easier for customers such as FCA Canada Inc. to conduct business.
"This new Digital Showroom product not only gives their dealers greater access to more vehicle inventory, but also provides their customers with more buying options and choices. By providing the infrastructure and support needed for this new and innovative virtual space, FCA Canada Inc. is expanding the retail sales opportunities for their dealers and showing the boundless possibilities that strong partnerships with common goals can create," Enge explained.
The Logistics of 'Virtual Inventory'
In XLane's current closed program, a client such as FCA Canada can allocate vehicles to their dealers for any duration of time.
"Since the program vehicles are inside a closed auction environment, the dealer is guaranteed that the desired vehicle will be available for purchase exclusively to them within the allocated timeframe," Della Porta explained.
And vehicles available on Digital Showroom are unique per dealer enrolled in the program. In other words, a single vehicle cannot be allocated to multiple dealerships' Digital Showrooms.
Once a vehicle is allocated, the dealer is notified and can log into their Digital Showroom account to manage their virtual inventory, giving them the ability to add retail pricing and marketing information, the XLane CEO explained.
And since Digital Showroom integrates with dealers' existing websites, consumers do not have to visit special portals or other external websites.
The program also allows the dealer to display a retail "showroom" version of a pre-sale or no-sale auction vehicle condition report on their website.
"Vehicles that arrive into the XLane system from various vehicle sourcing partners (auctions) may contain data that may not be appropriate for display on a customer's website. The XLane Digital Showroom allows them to 'override' standard condition report values as well as add their own content for display on a vehicle profile Web page," said Della Porta.
For example, the exterior color may be abbreviated; or there may be misspellings in the description.
Dealers may also want to display the OEM values for a vehicle's color. For instance, instead of just "black", the dealer can show "Brilliant Black Crystal Pearl Coat."
Using this tool, "Dealers can boost the number of online vehicles they can offer their customers without having to stock and finance the inventory," said Della Porta. "As a result, this provides the dealership with the opportunity to 'Sell Before you Buy'."
The Future for 'Digital Showroom'
Della Porta also explained the program can be extended to serve other OEMs, fleet, daily rental companies and physical auctions that want to extend their inventory to dealers' retail websites.
"We are currently building strong industry relationships to empower this program in Canada and the U.S.," he said.
When asked if the industry can expect more automakers to adopt the program in the near future, Della Porta responded, "Yes, absolutely."
"It's about bringing efficiency and shorting the chain between wholesale and retail transactions with a direct-to-consumer solution," he said. "With Digital Showroom, dealers can offer more to their consumers by accessing a virtual back-lot of auction inventory where consumers can access like a vending machine of cars."