Finch Hyundai adapts to meet supply challenges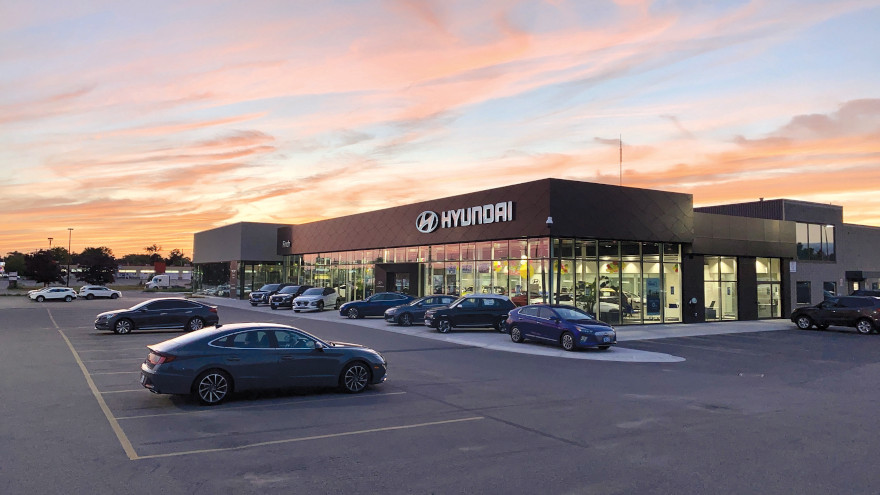 At Finch Hyundai, the used-car side coincides with its new-car inventory.
"The more new cars you have, the more trade-ins you take in," said Hass Hijazi, who is general manager and partner for Finch Hyundai in London, Ontario.
Finch Hyundai is part of Finch Auto Group, which also includes Finch Chevrolet Cadillac Buick GMC, Finch Chrysler Dodge Jeep Ram, Mercedes-Benz London, Finch Nissan, and Georgetown Chevrolet Buick GMC. As of September, the company was scheduled to open a new Genesis dealership.
The Hyundai dealership is doing well as the industry faces various challenges such as a microchip shortage that has helped contribute to a low supply of available vehicles.
Other than trade-ins, acquiring cars has been just about impossible for Finch Hyundai, Hijazi said.
In the past, a dealership could find vehicles through auction and pay $500 to $600 too much, but at least the dealership would be getting some cars, he said. Now, if a dealer is lucky enough to see a vehicle it likes on an auction site, the dealer will likely pay $2,000 more than it wants. That often leads to the dealership offering used vehicles for the same payment as a new one.
And that's confusing to the consumer, Hijazi said.
"It doesn't make sense for us to offer that to the consumer when they can get a new car for the same payment with full warranty, new-car smell and no dog hair," Hijazi said.
He continued, "So it's a real delicate balance. You have to have that proper pricing structure."
Company meets industry challenges
In 1989, Brian Finch .founded the Finch Auto Group. At the time, it consisted of one GM dealership. His son, Ryan, took over ownership around the early 2000s, and since then the company has bought and sold various dealerships.
That original GM dealership became the current Finch Hyundai site — featuring a 35,000-square-foot building on six acres of land — in 2010. The former GM site ran a strong used-vehicle business that consisted mostly of daily rentals.
After the Hyundai business got started, it continued to promote used vehicles, but those did not sell as well as the GM vehicles.
The Finch Hyundai team kept at it, however, and for a while the dealership was selling an average of 50 to 60 used vehicles a month.
That number has since gone up over the past couple years, Hijazi said, adding that the dealership saw sales numbers of between 80 and 100 used vehicles per month over the past six months. It could have been more, but attaining product has been a challenge, he said.
"The daily rental business has gone away completely … just because of the pricing of that rental market. It's just exploded," Hijazi said, noting the dealership used to sell about 10 of those each month.
Because of the lack of availability of new cars, the Finch Hyundai team has sharpened its skills in the area of switching customers from new to used, Hijazi said.
The company has a large database of sales and service customers and uses database marketing, sending out invitations to those customers for private sales. Those events usually result in sales of 20 to 30 vehicles.
"And the nice thing about it is, 80 to 90% of those deals come with a trade-in," Hijazi said. The dealership mostly invites customers on those sales to buy a new vehicle, but it accommodates customers who say they would like to buy a used vehicle to save money.
The customers from that database have "cars that you can tell a story with," Hijazi said.
"The car was bought here, was sold here, here's all the service records, never been in an accident, that kind of stuff," Hijazi said. "It makes it attractive for the client. It makes it much easier to sell, and you usually get a bit of a premium for cars like that."
Hot used and pre-owned vehicles as of late? Anything Hyundai, Hijazi said.
That is especially the case regarding any Hyundai Palisade. The company has seen some success in switching Palisade customers to the Genesis brand, which Hijazi said does not seem to have seen as much of a semiconductor shortage as other brands.
Used domestic trucks of all sizes are also selling well. That is especially the case for rental companies, Hijazi said.
"If they've got supply of pickup trucks, they are in some cases asking almost list price for what the car sold for a year ago, a car with 20,000 km on it," he said. "And I think they're getting it, too."
CPO business shows strength
Hijazi has found Hyundai's certified pre-owned program to be quite strong, providing low interest rates and a one-year powertrain warranty with every vehicle, including the ability to upgrade that at a low cost to a four- or five-year full warranty, Hijazi said. Additionally, Finch Auto Group provides a 90-day "Love It or Bring It Back" exchange program.
The dealership has seen a slight uptick in customers taking advantage of the 90-day exchange, but that has remained fairly low.
"My staff does a pretty good job qualifying the customer and making sure we get them in the right vehicle," Hijazi said. "But there's always that customer that gets out, they drive a minivan for a couple weeks and, 'You know what, I don't really want it…can you put me in an SUV?' And if it's something I have on the lot, I don't have an issue with that. We'll …put them in something else. That's attractive for the customer."
Being a large group helps, since the dealership can look at other dealers in the group to find vehicles for those customers. That has been a bit trickier as of late because the other dealers are reluctant to part with inventory during the shortage.
"The fact that we have a stellar reputation in the city for vehicles in general makes the public comfortable buying a used vehicle knowing we'll back it if there's any issues," he said.
A long-time presence in the area contributes to the dealership's strong reputation, said Hijazi, who has been with the company for 30 years.
"Locally for us, the Finch name has been sort of iconic in the city for 32 years now," he said. "We have great people, many long-term employees, some since day one. So, I think that sets a commitment, and the fact that people buy a car from somebody and they come back five years later and that person is still here, makes a big difference because they've already formed sort of that comfort area with them."