'Fly to Buy' not too lofty for some used-car deals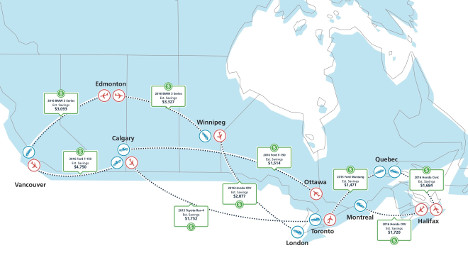 CAMBRIDGE, Mass. -
Earlier this summer, CarGurus released a study in the U.S. showing that for some used-car shoppers, it actually makes more financial sense for them to take a flight to a city where car prices are considerably less expensive.
As it turns out, that was also the case for some shoppers in Canada.
Again, CarGurus said most of the time a used-car shopper isn't going to stray far from home to buy a vehicle. But the company highlighted several cases of where "Fly to Buy" could be the way to go, given the variance in used-car prices between cities.
In other words, flying to a city where prices are lower and driving the car back may still be cheaper than buying it in your home market, CarGurus said.
"Canadian car shoppers often cross province lines to buy a car, but expanding their search area to even greater distances can offer the adventurous deal-seeker even bigger savings — with the added bonus of a fun summer road trip," CarGurus data analyst Lisa Rosenberg said in a news release.
"While staying local makes sense for many car shoppers, this research highlights just how much variability exists with used-car prices," Rosenberg said. "Shopping for cars even in nearby cities can unearth opportunities to save."
One example the company shared is a 2016 Ford F-150. A Vancouver shopper interested in this ride could hop on a plane to Calgary, buy the truck there and save over $4,000 — even when flight and gas costs are considered, CarGurus said.
Likewise, flying to Winnipeg to buy a 2016 BMW 3 Series could save an Edmonton shopper more than $3,000 (with gas and plane costs considered here, too).
CarGurus said it examined its used-car inventory throughout Canada and determined where regional price differences were greatest, based on its analysis of local market prices on comparable units.
Plane tickets and gas costs were also considered.
Below is a list of Fly to Buy trips CarGurus shared for popular models, based on the cars being among the most-searched on the company's website.
2016 Ford F-150: Vancouver to Calgary. Estimated savings: $4,750
2016 Ford F-150: Ottawa to Calgary. Estimated savings: $1,514
2016 BMW 3 Series: Edmonton to Winnipeg. Estimated savings: $3,327
2016 BMW 3 Series: Edmonton to Vancouver. Estimated savings: $3,093
2016 Honda CRV: Winnipeg to London, Ontario. Estimated savings: $2,877
2016 Honda CRV: Halifax to Montreal. Estimated savings: $1,720
2015 Toyota Rav-4: Calgary to Toronto. Estimated savings: $1,752
2016 Honda Civic: Halifax to Quebec City. Estimated savings: $1,684
2015 Ford Mustang: Toronto to Quebec City. Estimated savings: $1,471
In the news release, CarGurus shared its methodology, which can be foud below in italics.
CarGurus compared the Instant Market Value (IMV) data of the company's inventory of used cars for sale in Canada's largest metro areas. Analysts determined the IMV in each metro area for popular used cars and then compared prices for comparable vehicles between metro areas to identify estimated savings. Calculated "Fly to Buy" savings include the cost of airfare between cities based on TripAdvisor listings for least expensive nonstop* flights for August 1, 2017. The estimated cost of gas is based on Statistics Canada average retail prices by urban centre for May 2017. Metro areas are defined as the 80.5 kilometers around the city centre.
* Apart from Halifax to Quebec City, which does not offer nonstop flights. Savings for this trip reflects the cost of a one stop flight.