The franchised car dealer pulse in Canada: Part II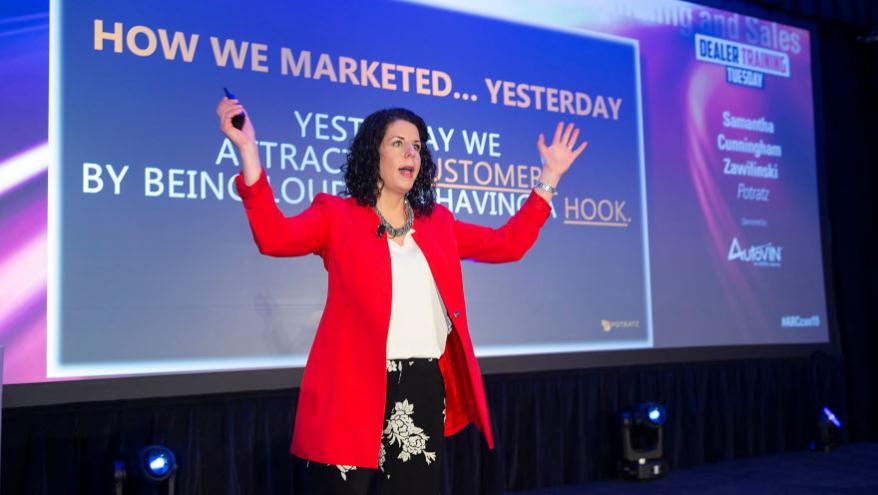 Part II of this feature answers this question: Where do you focus your marketing?
Here are two approaches to consider, plus more details on marketing trends, creating a brand and managing online reputation.
Approach 1: Email marketing
What is one thing franchised dealers can't afford not to do when it comes to marketing today? Auto Remarketing Canada asked Samantha Cunningham Zawilinski, vice president of account services at Potratz, this question earlier this summer.
Her two-word response: email marketing.
A dealer's database is worth more than any outbound marketing initiative, she says, backing up her assertion. But email marketing continually evolves, and dealership strategies must as well.
"If the only email sent to your database is a sales email, we are losing opportunities to stay relevant and in front of the largest faction of our database," said Cunningham Zawilinski. "Instead of solely sending sales messages, content about service FAQs or events happening in the community are a small example of the valuable and resourceful content an email marketing strategy can provide, ensuring engagement and, most of all, opted into to remain CASL (Canada Anti-Spam Law) compliant."
Here are three practices that should be implemented when creating an email marketing strategy:
1. Ensure your team is proactive and ready to collect and verify customer email addresses. According to Cunningham Zawilinski, one way to do this is to incentivize cashiers in your service driver to verify email addresses. Once the cashier collects their email, have them send an opt-in email as they are standing at the counter. "Prompt the customer with a script and — ta-da! The customer has not opted into your marketing campaigns and you are CASL compliant," she said.
2. Create a nurture campaign to engage customers who have recently purchased. Sales emails alone often don't do the trick. Why do we stop talking to customers after they have purchased? "This is how we lose retention, referrals and repeat sales," she said. "Creating a nurture campaign allows us to feed consistent conversations, drive brand awareness, increase sales from the same household and referrals."
3. Identify sales and service cycle practices of your customers to move them from their current vehicle to a new model. Cunningham Zawilinski offering this example: If your upgrade cycle shows that 40% of customers who currently own a Toyota RAV4 will upgrade to a Highlander after 42 months of ownership, your dealership should have a nurture campaign to this point, gradually moving the messaging to the features and benefits of the Highlander compared to their RAV4 with customized call to actions.
Approach 2: Video marketing
Presenting another perspective, Alan Dickie, of AlanDickie.com, honed in on video marketing as his suggestion for franchised dealers, and used what he called a prime example to "drive the importance of video home."
He put it like this:
Rewind 30 or so years ago, many consumers still had to visit a number of dealerships if they wanted to acquire any kind of information about a vehicle of interest.
"This drove the customer through our dealership doors, but once they arrived, salespeople were beaten over the head with the importance of 'building rapport' — which is, of course, a must if you are looking to effectively convert," Dickie said.
The problem? This "bogged" down the process. But with video marketing, Dickie contends the game has changed.
Dickie further explained that he asks his clients to think of their favorite actor or actress, and how they would react if they walked into the room. A dramatic example, yes, but the point being: Video marketing can help salespeople create a rapport and reputation with clients before their customers walk into the dealership.
"… on a subconscious level, while you watch their movies, you start to develop a familiarity with the person," said Dickie. "This is why you would feel comfortable approaching them in the manner I just described. The same thing occurs when you understand effective 'pull marketing' strategies.
"By utilizing video, you can produce content that is both of value to your audience and will keep your name constantly in your customers' heads," he added.
This can also help salespeople create a customer base, or future customer base, that feels like they already know you when they arrive at your store.
"When their need for a vehicle shows up, a number of amazing things happen. For starters, you have customers reaching out to you versus you chasing them like a sales rep desperate for a deal," Dickie said, and effectively eliminates the need to spend up to 30 minutes of your time building rapport.
More marketing trends
So, what has changed about the way franchised dealers need to approach marketing in, say, the past five years?
According to Cunningham Zawilinski, in the past five years marketing has evolved from progressive dealers being the only stores playing in the digital space to most dealers having a digital presence.
On top of this trend, she said, manufacturer programs are increasing their mandates, including what vendors are approved, where dollars can be spent and where you can and can't utilize custom content or creative.
Cunningham Zawilinski said the requirement to use multiple mandated vendors has created concerns regarding ad similarity, which makes it hard for franchised dealers to stand out from the pack.
The solution?
"Ensure your ads are different and not all focused on price. Find a way to be unique to the shopper, and please don't promote years in business and president awards … Shoppers don't care," she said.
As for Dickie's take on recent marketing trends, he coins it like this: "What it comes down to is releasing yourself from the way of the old. It's a new day, not only our industry, but in daily life for that matter.
"I see all of it from dealers committed to success who are willing to learn, change and adapt," he said. "… Dealers can easily ensure their place on the totem pole by operating in a proactive manner — versus the reactive manner that the mass majority of our industry have operated in and always will."
Creating a brand
With consumers spending more and more of their time researching their vehicles online before entering a store, it's effectively becoming more and more difficult for dealerships to stand out from the pack.
Cunningham Zawilinski puts it simply. You, the dealer, are the differentiator between one Kia store and another. It often comes down to how you and your business is branded in your marketing.
She said franchised dealers should make sure to identify their brand story and spokesperson, much like Steve Jobs was to Apple, then utilize this individual, or mascot/character, in all of your collateral.
But don't stop there — it's important to provide value to your customers to stand apart.
Cunningham Zawilinski suggests launching a weekly video series you can share via email, social channels and run on your TV in your dealership, among other places.
Your online rep & embracing technology
Over at Motoinsight, Andrew Tai began his discussion on dealerships' online presence by asserting that most have almost all made the shift from traditional advertising like print to fully embracing digital and social channels.
But the work isn't done.
"However, dealers need to look beyond just counting website visitors and leads," said Tai. "Think about the last time that you as a consumer found something online you were interested in buying and filled in a lead to wait for the store to call you — imagine doing that on Amazon."
That brings us to digital retailing, a water cooler topic in the auto world, and Motoinsight's specialty.
Tai contends digital retailing, although frequently talked about in the auto business, is still not fully understood by most dealers.
It's more than just selling cars online, he says.
"This is definitely a big technology shift that is coming that dealers can't afford to miss. The ability to enable customers to shop whenever, wherever and however they want with digital retailing technology will become table stakes very quickly," Tai said. "Once upon a time, it was innovative to have a dealer website. Then it became the status quo. The same thing will happen with digital retailing."
Digital retailing, of course, is tied heavily to internet leads. According to Dickie, there is one pitfall franchised dealers should pay close attention to in this respect, and it comes down to data — big data being another buzzword in the industry.
"The biggest problem dealers experience when processing their internet leads is the lack of tools to determine how successful they are in handling them," said Dickie. "Dealers must have a consistent process in place, carried out by a consistent team."
To put it simply: "If you have nothing to effectively gauge your success in this area, you will never truly know what's working and what isn't," says Dickie.
"And trying to judge by the odd handful that work out is simply not going to bring the consistency and success we want to see," he added.
Bottom line: Beware — or rather, be conscious — Motoinsight's Tai warns. There is more change coming to our industry in the next five years than the last 15 combined.
"Wherever there is rapid change, there is also tremendous opportunity, though. There is actually no better time to be a dealer if you are ready to play offense," Tai said.