Gain Competitive Advantage From Technology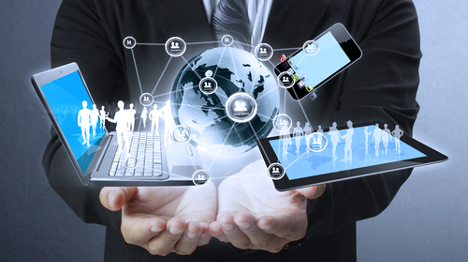 TORONTO -
It goes without saying that technology has made changes to nearly every area of business operations for companies large and small. Car dealerships are certainly no exception.
However, many business people get stuck doing things the way they've always done them, failing to take advantage of the possibilities new technology can offer. As a manager or owner, you owe it to your dealership to continually seek out technologies that can streamline operations and boost profitability.
Gain a competitive advantage from technology
There's no question that the dealership that can harness technology products most effectively will have a competitive advantage. Technologies that save you time, increase your efficiency or drive sales all help you stay ahead of competing dealerships.
Using a mobile phone and email helps make you more accessible to customers.
Developing a website helps showcase your vehicles and drive sales.
Making use of social media lets you engage with customers and build trust.
Choosing and using the right business software streamlines operational processes.
Using smartphone apps — such as appraisal tools — helps you evaluate vehicles on the spot before buying.
One technology in particular that's gaining momentum among dealers is the online auction.
Online technology improves auction process
The technologies that will give you the greatest advantage are ones that specifically improve processes you do frequently, or that currently take up a lot of time.
Sourcing used vehicle inventory occupies a lot of your time as a dealer and takes you away from sales. Acquiring and disposing of vehicles more efficiently can reduce costs and boost profits.
That's where technology can help. Purchasing and selling vehicles at auction without leaving the dealership saves time and costs less than a physical auction.
The technology offers specific advantages as well. Auction websites offer time-saving tools, such as search features and the option to set up alerts when a particular vehicle comes up for auction. Some sites are mobile-friendly, so you can receive text alerts and view vehicles right on your smartphone or tablet.
And selling through online auctions is just as efficient. Snap some photos with your smartphone, upload them to the site along with the vehicle details, and in a few clicks you've exposed your vehicle to a much wider market than is possible at a physical auction.
Choosing the right auction site
The ongoing evolution of technology products is accelerating. New smartphone apps for auto dealers seem to pop up all the time and new websites and software are released regularly. As a general manager or used car manager, how can you evaluate the technology options available and select the ones that will benefit your dealership?
When it comes to online auctions, selecting the right site comes down to how well it integrates with the processes and technology you're already using.
Here are five key things to look for when choosing an online auction site.
Works on multiple platforms
Choose an auction site that works equally well on your computer, tablet or smartphone. This lets you respond to opportunities whether you're at your desk, on the lot or on the road.
Scalable
Look for a site that remains cost-effective, whatever the volume of purchases or sales you make.
Integrates with multiple solutions
You'll save time and money if the information you enter in the auction site can be carried through to your sales site.
Accessible anytime, anywhere
When the site is available 24 hours a day, seven days a week, you'll be sure not to miss that particular vehicle you've been looking for.
Ties into your existing processes
A site that integrates with other technologies you're already using will save time in the learning curve and be more time-efficient and convenient when you use it.
To gain – or maintain – an advantage over your competition, your dealership needs to continually adopt the new technologies that make sense for your business. Online auctions make it easier to get the right mix of vehicles on your lot and to keep your inventory fresh. And when you choose an auction site that works with the platforms, processes and technology you already use, you'll be able to maximize your efficiency and minimize your cost.
Robert Rath is the VP of dealerhip products and business development at TRADER Corp.
Editor's Note: This column ran in the Auto Remarketing Canada Year-End Market Intelligence Report. Check out the latest digital magazine issue for more info on marketing in 2015 as well as a recap of the year's biggest stories.