Global Dealership Redesign Begins for Hyundai Canada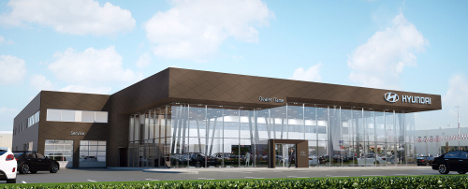 MARKHAM, Ontario -
The well-known blue-and-white Hyundai dealership look will soon be a thing of the past. Hyundai Auto Canada Corp. announced this week that it has begun to adopt Hyundai's new Global Dealership Space Identity initiative.
The redesign, which will start with all new dealerships being built worldwide and progressively update existing dealerships, starts with a major renovation of the exterior design. Replacing the traditional blue and white colors will be a more subtle bronze roof structure, though the signature Hyundai blue will remain an accent color internally.
Don Romano, the president and chief executive officer of Hyundai Auto Canada Corp., thinks the GDSI's new color scheme will make Hyundai unique amongst its competitors.
"The automotive industry is filled with brands that adhere to primary colors such as blue or red, and it's time for Hyundai dealerships to stand out among the competition the same way Hyundai vehicles stand out on the road," Romano said.
"Rather than abandon our history with the blue color to pursue a new direction, that color will be found throughout the new dealership design in strategic, highly visible customer-centric areas. Instead, our goal for GDSI is to introduce a more modern, premium look to our dealerships that will elevate the perception Canadians have of our brand in the same way our fluidic sculpture vehicle deign elevated their perception of our products," he continued.
The interior dealership design will also receive an overhaul, featuring more modern furniture, customer lounges, digital kiosks, tablets and wheel stands, while incorporating indoor plants and unique flooring to create a natural-feeling environment indoors. The high-end Hyundai products, such as the Genesis and Equus, will have their own separate showrooms within the overall showroom.