GM Canada to Recall Over 57K Vehicles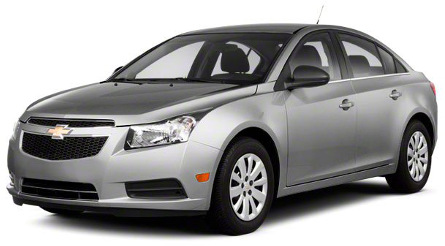 OSHAWA, Ontario -
After recalling 187,000 units the week before, General Motors Canada announced late last week yet another safety issue involving air bag inflators – bringing the recall count closer to 50 this year for the GM automaker.
The most recent recall covers 57,706 vehicles in Canada, involving a variety of models.
First up, dealers will replace the driver's side air bag inflator in 4,066 2013-2014 model year Chevrolet Cruze sedans in Canada.
"The inflator in the driver's front air bag may rupture and/or the air bag may not inflate during air bag deployment," the company statement said. "A rupture could propel metal pieces of the inflator into the vehicle cabin, possibly striking and seriously injuring the driver or other vehicle occupants."
Furthermore, if the inflator does not inflate the air bag, there is an increased risk of injury to the driver.
The company is aware of one injury related to the issue.
Next up, dealers will recalibrate transfer case control module software in 53,607 full-size pickup trucks and SUVs in Canada.
Affected are four-wheel-drive versions of the 2014-2015 Chevrolet Silverado and GMC Sierra; the 2015 Chevrolet Tahoe and Suburban; and the 2015 GMC Yukon and Yukon XL.
"In these vehicles, the transfer case may electronically switch to neutral without input from the driver," the company explained. "If this occurs while a vehicle is in motion, no power will go to the wheels. If the vehicle is stopped or parked, it may roll away if the parking brake is not set."
GM is not aware of any crashes or injuries related to this particular issue.
Lastly, dealers will also replace the two rear shock absorbers in 33 2014 model year Chevrolet Corvettes in Canada with the FE1 or FE3 suspension to repair a possible insufficient weld in the rear shocks that could lead to a fracture and/or reduce the shocks' service life.
GM is not aware of any crashes or injuries related to this issue, either.
Shortly after GM announced this recall last week, a group of Toronto dealers launched a suit against GM Canada and parent company General Motors Co.
a group of prominent GM Canada dealers is suing the company and its parent General Motors Co.
Adria MacKenzie, corporate communications manager at GM Canada told Auto Remarketing Canada this morning, "A number of Toronto dealers have taken legal action against GM. The claims are without merit, and we plan to defend against them vigorously."
"We will continue to be focused on our customers," MacKenzie added.
For more information regarding the suit, see the following Auto Remarketing Canada story:
Dealers File Suit Against GM Canada & Parent Co.