Hanover Honda president talks family business, used cars & customer service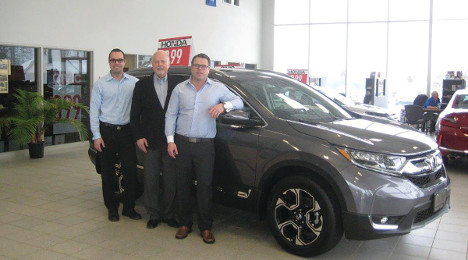 It's a family matter at Hanover Honda in Ontario. Store president Larry Lantz runs the store alongside sons Rob (general manager) and Dave (sales manager).
And the advantage to having family around?
"Well, they're very knowledgeable, but they work for peanuts," Larry Lantz said with a laugh.
"No, the family works for less money to make the store successful, and they have since the beginning," he said during a phone interview with Auto Remarketing Canada in July. "We all do, actually. Because we can make those sacrifices to make the store successful. And we've done very well over the last 10 years."
Family can also contribute to the culture of the store.
"Well, we're all on the same wavelength. We talk a lot outside of the store as well. But we're all focused on customer satisfaction. The boys were trained since they were very, very young on how to work in a car dealership and how to look after a customer, and that's what the business is all about today: the customer experience," Lantz said.
Lantz purchased the store, which had been Town and Country Honda, in 2007.
Since then, he estimates, used-car volumes have likely tripled. But Lantz also notes that a big challenge is getting the right supply of used cars, particularly high-quality, late-model rides.
So how have they increased used-car sales amid such a challenge?
He said with new-car sales climbing, they've been able to generate more trade-ins.
"Also, Honda markets lease returns through an online process, so we step up and buy those whenever we can," he said.
The dealership also turns to buying cars off the street from consumers who wish to sell.
Used cars, in general, are a big part of Hanover Honda's operations, Lantz said. Think of the dealership like a "four-cylinder engine," consisting of new cars, used cars, parts and service.
If one of those cylinders goes awry, "the car will sputter and end up pulling to the side of the road," he said.
"So we need to make sure that all our different businesses within our business are successful," Lantz said. "So used cars are very important to our business, not only just the profit that we make selling a used car, but also the service and parts that it generates."
Speaking of service, the dealership's website includes a service video gallery of YouTube clips from the automaker explaining common questions customers may have about various Honda vehicles.
For instance, "how to use Honda's audio system" and "how to use the climate controls on Honda's display audio system."
There are also videos, for example, on removing second-row seats in the Odyssey.
"We're trying to provide value to our clients. People sometimes don't want to just phone in and ask questions, because they think they're maybe asking a dumb question or something," Lantz said. "So, if there's anything we can do to simplify the process on our website, then we're trying to do that."