HGregoire adds 2 Nissan dealerships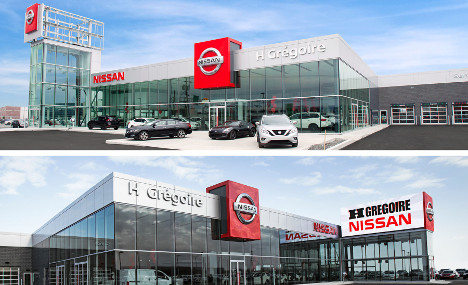 ST-EUSTACHE, Quebec -
HGregoire officially opened two new Nissan dealerships in Quebec this week, raising its new-car dealer count to seven. The group also owns 12 stores that specialize in pre-owned Nissans.
The new Nissan stores added to its lineup are HGregoire Nissan Vimont, and HGregoire Nissan Chomedey, both of which are located in Laval, Quebec.
The group hosted tours of the new stores for partners, stakeholders and media. Attendees included Nissan executives who were there for the festivities on Thursday.
HGregoire said these new dealerships will be some of the the first stores in the country with Nissan's new brand image.
"We are delighted to be here to celebrate and welcome our two new Nissan dealerships to the HGregoire family," HGregoire president John Hairabedian said in a news release.
"The new Nissan brand image is a perfect fit for the redefined and modern experience that HGregoire offers its customers. I am proud of the company that my father founded 25 years ago. We will continue to grow and, with the help of partners like Nissan, to deliver an exceptional experience to our clients that is based on their needs," he said.
The retailer invested a total of $50 million in the stores, each of which are 85,000-square-feet (land and building combined) and include 16 service bays plus a 350- to 400-vehicle outdoor lot.
In addition to play areas for children of customers, the stores include comfortable waiting rooms and design centers for shoppers to personalize their car through a tablet.
"We know that people already have enough stress in their daily lives," HGregoire Nissan president and general manager Jimmy Gioia said in a news release.
"We are committed to changing the way people think about and experience the purchase of a new vehicle," he said. "We know our customers are tech-savvy. Our design centre incorporates technology that takes the guesswork out of choosing options and selecting a car that meets each customer's unique needs."
Nissan Canada president Joni Paiva added in the release: "We have come in full force tonight to show our appreciation to the HGregoire family and their accomplishments. Nissan values their business model, and we look forward to seeing their success grow in the NREDI 2.0 environment,
"It's fitting that this auspicious occasion celebrating our new dealership's visual signature is hosted by HGregoire's vibrant and innovative management team," Paiva said.