How accurate foot traffic data can help auto dealers guide, streamline advertising spend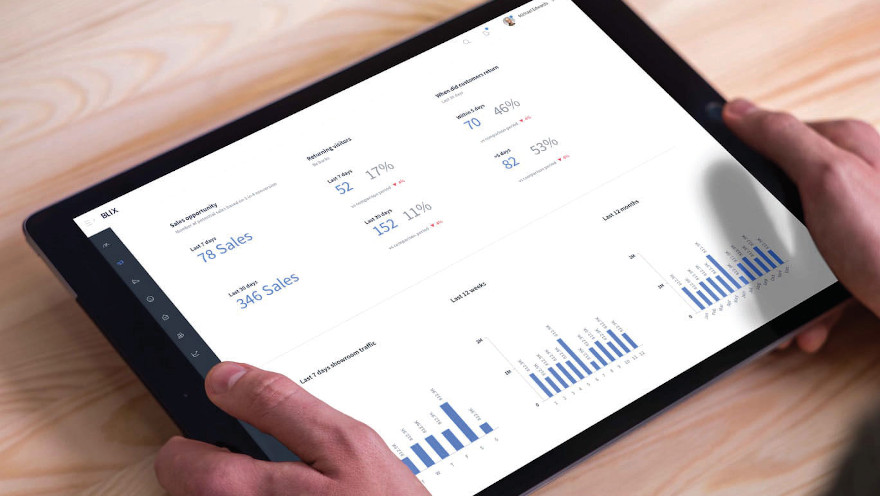 TORONTO -
How do dealers track walk-in traffic? Well, to many, it may be more obvious and seem more beneficial to focus on tracking click rates and website visits these days.
But according to auto marketing industry veteran Miranda Pyette, that may not always be the case.
Pyette's company, Miranda Pyette Automotive, recently purchased the Australian company Blix, adding the walk-in traffic sensor tool provider and application to its portfolio.
So, why is it still crucial to track walk-ins, while most shoppers are starting their vehicle research online these days? Pyette explained by going back to the original process and impetus for her company's recent purchase.
"One thing dealers would always say to me was, 'Miranda, I spend all these advertising dollars, and I don't know which part of it works,'" she said in a phone interview.
After monitoring one of these dealer's ad spend for six months, shifting things around saved him over half of the advertising dollars that he was spending on a monthly basis without affecting leads, traffic or sales.
Through word-of-mouth and 20 Groups, dealer associations and more, business for Miranda Pyette Automotive ramped up from there.
And what evolved were the following two questions:
How are dealers tracking where people are coming from or their walk-in traffic data?
And how are they engaging these customers when they walk into the physical store?
"And literally, dealers would say to me, 'Well, I have someone at the front door, you know, ticking a box of how many people walk through the dealership every day,'" said Pyette.
The process was 'broken'
So, Pyette began researching walk-in traffic tools, and how she could make this process easier for dealers — many of who still track walk-ins manually.
"If that person (responsible for this job) is tracking walk-in traffic, what happens if they call in sick or they quit their job?" she asked.
Pyette searched for an answer to that very problem, specific to the auto market, which brought her to the tool Blix that has been on the market since 2013.
Pyette explained she originally reached out to Blix, looking to perform a proof of concept at two dealerships to gauge the value of the data provided, because dealers "already have enough tools to use. If we are adding something to their day-to-day monitoring, it better be important."
After six months of hard data analysis, Pyette found that the tool helped the dealerships correlate marketing spend with the number of people coming through the dealership. Pyette also explained her team looks at sales data, completing what she calls the "triangle" — walk-in traffic, marketing spend and sales.
"We pull all of that data together, and are in touch with the dealers on a weekly basis with reports," she said.
Pyette explained many of the dealers bring the reports to daily sales meetings to discuss why walk-in traffic may be up or down, and adjust strategies accordingly.
The videos participating dealers receive from Pyette's team are brief and provide talking points perfect for sales meetings, including traffic rates, sales correlations, bounce rates to different stores and more.
Most dealers have upwards of 10 dashboards they check every morning, so "if you make it simple for the dealer, then they'll use it," Pyette said.
Using the Blix tool, Pyette helps dealerships look closely at their marketing spend and continue to tweak it.
"We are taking our spend analysis to the next level to see what's actually bringing in more people or actually brings in less people," said Pyette. "And how do we compare that to other brands in the market, or other dealers?"
Using Blix, you can actually see, for example, if a customer started out at one General Motors dealership and ended up at another one to ultimately purchase; in other words, cross-shopping data is available.
"We've got to be on top of those people walking into our stores to give them the best experience. You know, people want to spend less time in the dealerships," said Pyette. "We have got to really understand what's happening with our walk-in traffic, and make sure we don't allow that customer to walk out."
And there's more to tracking walk-in traffic than just knowing how many potential customers make it into your shop.
Blix, for example, correlates website traffic and walk-in traffic with different marketing spend data points.
"So, when you start to look at that, you start to look at does my marketing spend drive more traffic to my website, and then drive more people in the showroom?" she said. "Or how can I adjust to ensure this progression?"
What's particularly exciting, Pyette says, is the potential for dealer groups and more accessible regional data. For example, if your dealer group has stores in Ontario but also Vancouver, you can have increased visibility and regional traffic data to compare across your dealer network.
For OEMs, this can be useful, too, as they can get a pulse on their entire dealer body.
"OEMs may not have line of sight on what's happening from a traffic perspective and how their dealers vary. And we set those trend reports up in regions, so they can literally login and see that traffic is down, for example, in the West by 4%. But it's up in Ontario by 6%."
Dynamic marketing spend key for dealers
Marketing spend has to be "dynamic" to be effective these days, says Pyette.
"Especially for dealers currently, they really have to shift back and forth with marketing spend, really kind of go with the trends and have to be very quick to react," said Pyette. "They can't just be like, 'This worked last year, so it's going to work today.'
"But the reality is, a lot of dealers just keep doing the same thing over and over with their marketing. With looking at their spend, we always say to dealers, 'You have got to have that strategy meeting at the end of the month, figure out what you're doing for the next month, but also look at traffic and sales and trends.'"
Make plans for the coming months, and make sure it makes sense.
For example, "When traffic may not be down in December. Why are we cutting our spend, right?" Pyette asked.
The question is ultimately, how can you improve marketing spend and make your dollars go further every year — and every quarter?
And according to Pyette, analyzing walk-in traffic may have more to do with that strategy than initially expected in an increasingly digital world.