Hyundai dealers offer 'visits' with Google Street View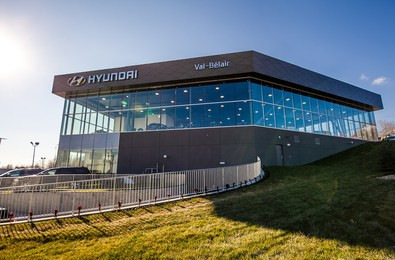 MARKHAM, Ontario -
Hyundai has a new way for customers to take their online shopping experience to a new level, and it's using a tool many have likely used before.
Dealerships in Quebec and Alberta are offering customers a virtual tour of the showroom, service center and even the vehicles themselves by using Street View on Google Maps. The 360-degree Street View functionality with which many people are already familiar with has been brought indoors in part to explore Hyundai's new Global Dealership Space Identity (GDSI) design that is rolling-out to facilities nationwide.
"We already know more and more customers are doing an increasing amount of their car shopping online; the data we see every day proves that," said Lawrence Hamilton, director of marketing at Hyundai Auto Canada Corp. "Bringing that 360-degree Street View of Google Maps to two of our newest dealerships is a natural extension of what our customers are already looking for online and further accelerates the convergence of the online and bricks-and-mortar world."
Hamilton said Hyundai Val-Bélair in Quebec and River City Hyundai in Alberta were selected for a pilot project as part of a larger, longer-term plan to ensure every dealership has a fully virtual presence that, ultimately, closely matches the physical environment.
The same team and equipment used to generate the Google Maps Street View online environment was used to capture the vast majority of areas within the two Hyundai dealerships that are accessible to the public. This includes three vehicles in each dealer's showroom, with Hyundai Val-Bélair showcasing the Elantra compact car, Tucson compact SUV, and Genesis Coupe sports car and River City Hyundai showing off the Santa Fe XL 6-or 7-passenger SUV, Genesis luxury sedan, and Veloster 3-door.
"We decided to start this project with our newest GDSI dealerships as one of the motivating factors behind the new design for Hyundai facilities is to elevate the perception of our brand," Hamilton said. "Extending those physical facilities into the virtual world will enable more people to experience the design and better understand what it means to be a Hyundai customer.