Impact Auto Auctions rebrands to IAA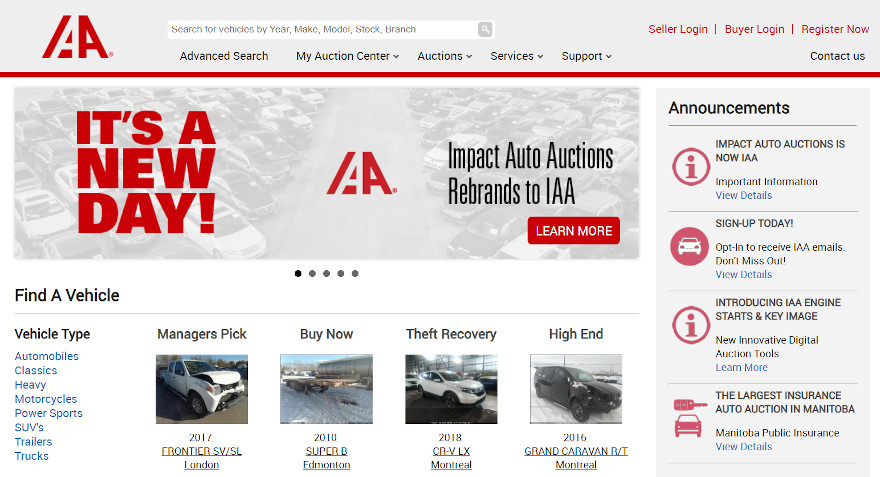 IAA, Inc. said Thursday that its Impact Auto Auction business unit in Canada has rebranded to the IAA global brand.
In a news release, IAA said this move "underscores IAA's commitment to investment, innovation and customer excellence in the Canadian market" and "highlights the recent series of technology launches in the Canadian market."
Impact, which joined IAA in 2007, has 14 facilities in Canada. Those locations "will continue to provide the same high level of service for Canadian customers under the IAA brand, without change to the operations or organizational structure," the company said.
"Aligning the Canadian business under IAA's global brand will reinforce our customers' access to the industry's best products and services, innovative technology and expansive global buyer base," said Terry Daniels, who is senior vice president of international operations for IAA.
"For nearly 15 years, the Canadian business model has successfully leveraged the resources of IAA to support our local infrastructure, leadership and service delivery," Daniels said.
IAA chief executive officer and president John Kett said: "The IAA brand reflects the strong global marketplace that we've built to quickly and efficiently connect buyers and sellers of vehicles.
"We will continue to combine the Canadian team's long tradition of exceptional customer service with IAA's industry-leading innovation to build on our market-leading position in Canada."