Impact Auto Auctions tools include under-hood video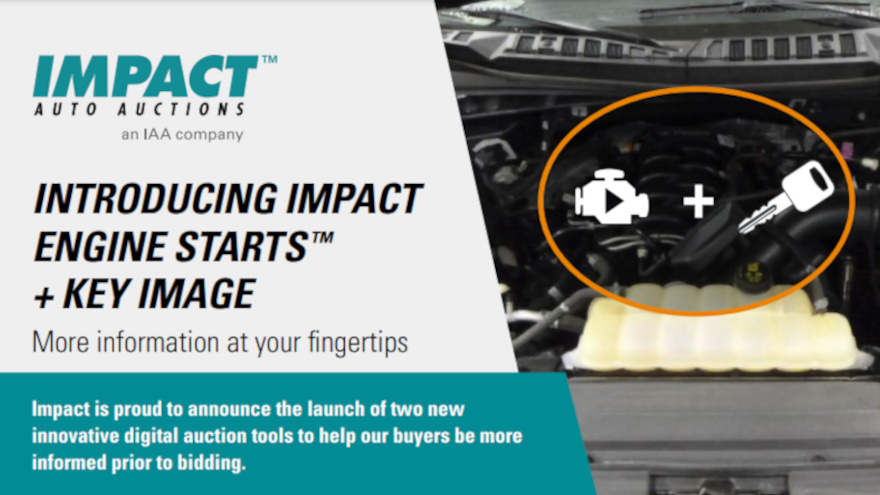 MISSISSAUGA, Ontario -
Impact Auto Auctions has enhanced its Interact merchandising platform with two new features, including one that offers a 10-second, under-the-hood video with full sound.
The company said the new tools provide buyers with additional vehicle details to research, bid and buy with greater confidence and trust.
Impact Auto Auctions, which is the Canadian subsidiary of IAA, said that the new features — called Engine Starts and Key Image — also bring a more competitive bidding environment and higher proceeds for sellers.
Engine Starts offers a 10-second, under-the-hood video with full sound that a yard attendant captures using OnYard, IAA's vehicle check-in system.
With the video, vehicle buyers can assess an engine's condition as it runs.
Key Image features photos showing key or fob condition and type.
"Providing a wealth of detailed vehicle information, these new merchandising tools are enhancing the customer experience by helping our buyers make decisions with greater confidence and trust," Impact managing director Blair Earle said in a news release.
Earle also said, "Engine Starts and Key Image allow confident, informed decisions by ensuring buyers receive vehicles that are accurately and consistently described."
Coupled with a 360° imaging technology called IAA 360 View, the imagery tools on the Interact merchandising platform create an immersive buyer experience that replicates physical interaction with a vehicle, according to IAA. The technology has been in use in the United States since 2019 and can also help buyers to de-risk transactions by allowing them to more accurately assess a vehicle's value.
Both merchandising tools are available via the vehicle detail pages at impactauto.ca.