Impact Auto Auctions website has updated look, new features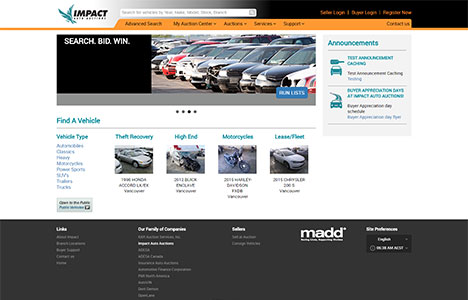 MISSISSAUGA, Ontario -
Impact Auto Auctions has launched a revamped website featuring a new interface, an advanced search function and a streamlined registration process as well as two tools that are designed to make the bidding process easier for customers seeking salvage vehicles.
One of those tools, My Auction Center, is a personalized dashboard that enables registered customers to bid in real time, receive vehicle pick-up notifications, and view upcoming auctions and announcements on a single page.
The other, Impact AuctionNow, builds on the company's previous LiveBlock Hybrid Auction system to bring domestic and international buyers side-by-side with live bidders at IAA's auctions.
Impact AuctionNow gives customers faster and easier access to Impact's vehicle inventory. Buyers can now view and bid on multiple auction lanes or sales from one screen, track active bids across all auctions sites, pre-bid on a vehicle the moment it is posted until its auction date, and monitor upcoming buying opportunities via an automated Watch List.
"We are delighted to launch our new online buyer portal, which not only simplifies the bidding process for our customers, but reinforces our commitment to investing in our diverse and growing buyer market," said Terry Daniels, Impact's managing director.
"Together these enhancements constitute one of our largest investments in our buyer base to-date and we are already getting great feedback from buyers."
Click here to visit the new website.
Impact Auto Actions Ltd. is a subsidiary of Insurance Auto Auctions and a business unit of KAR Auction Services.