Industry interest growing for 2016 AR Canada Conference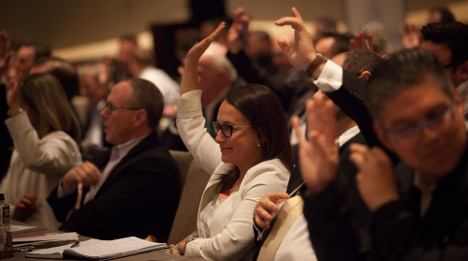 TORONTO -
Preparation for the 2016 Auto Remarketing Canada Conference is well under way, and industry interest is gaining steam, as well.
This year's event is scheduled for April 4-5 at the Westin Harbour Castle in Toronto. The 2015 conference saw record-breaking turnout with more than 600 attendees taking part in the two-day event.
If you are considering attending, check out the 2015 attendee list as a preview to potential 2016 turnout.
The Auto Remarketing Canada Conference team is already busy compiling an outstanding agenda, full of expert speakers.
Here are a few examples to spark your interest:
RVI, Strathcom Media, ALG, AMVIC and OMVIC are already on board for workshops.
Paul Potratz, of Potratz Advertising, will be kicking off Day 2 with a lively presentation.
Attendees will also be privy to an Auto Finance Panel focusing on long-term loans, as well as a panel discussion on CPO sales growth in Canada.
The Trillium Automobile Dealers Association will present analysis on the shopping habits and preferences of millennials.
For those already planning to come to the industry leading event, keep an eye out for a special announcement when registration for the 2016 Auto Remarketing Canada Conference opens.
The conference is designed to offer an exceptional opportunity to learn, engage and excel in the remarketing and used-vehicle industry.
And that takes help from our industry partners, many of which are already on board for 2016:
Sponsors & Exhibitors
ALG
Bank of Montreal
Canadian Automotive Fleet
Canadian Automotive World
Canadian Black Book
CarProof Vehicle History Reports
CTL
Chrysler Canada
National Auto Auction Association (NAAA)
PassTime International-Canada
Speed Shift Media
Strathcom Media Inc.
Trend Financial
Media & Industry Partnerships
Canadian Automotive Fleet
Canadian Auto World
National Auto Auction Association (NAAA)|
The International Automotive Remarketers Alliance (IARA)
Trillium Automotive Dealers Associaiton (TADA)
The Used Car Dealers Association of Quebec (AMVOQ)
A range of sponsorship opportunities that offer a variety of onsite brand activation are available. The Sponsor & Exhibitor Opportunities Prospectus is available here.
Stay tuned to arcanada.autoremarketing.com for the latest Conference news, and join this year's conversation using #ARCanada2016.