J.D. Power study shows lenders have 'room to improve'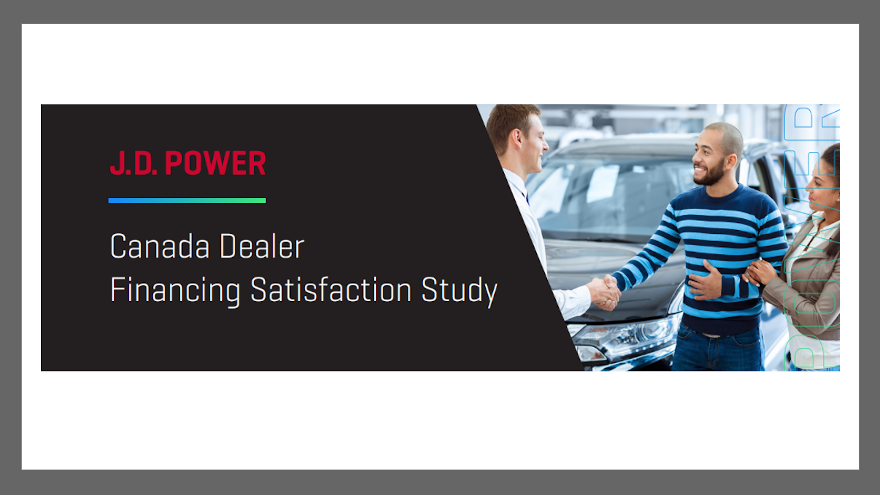 TORONTO -
Evidently, the rapid transformation toward online interactions and transactions by dealerships and lenders in Canada is easier said than done — even after a full year of COVID-19 realities.
According to the J.D. Power 2021 Canada Dealer Financing Satisfaction Study released on Thursday, 49% of Canadian dealerships saw an increase in online sales during the past year and 41% expect at least one-fifth of their sales to be digital in the next 12 months.
J.D. Power explained this "tectonic" industry shift requires lenders to adapt rapidly to accommodate dealers' needs, including building digital platforms and channels to streamline and grow business opportunities.
"While most dealers recognize the many actions taken by lenders to support their businesses during the pandemic, in many instances, less than one-third of lenders executed on initiatives such as increased availability and support from sales reps and credit analysts that drive greater dealer satisfaction," said Patrick Roosenberg, director of automotive finance at J.D. Power.
"Dealers also say 33% of non-captives and only 15% of captives provided online/digital credit application support/training," Roosenberg continued in a news release. "Lenders have a lot of room to improve in these areas if they want to protect and grow their business pipeline."
The study also highlighted the important role sales representatives can and should have in cultivating lenders' digital business opportunities.
According to the study, J.D. Power discovered dealers are looking to their reps to provide sales and technology training. However, less than 50% of sales reps exceed dealer expectations on this key performance indicator.
As digital opportunities grow, J.D. Power said sales reps and credit analysts need to become subject-matter experts to capture these opportunities.
"With an increasing number of auto sales moving to a full digital transaction model, lenders need to develop and launch digital platforms that enable the process from origination to funding — and be supported by the sales reps and credit analysts," Roosenberg said.
"Our study shows that a lender who effectively responds to this shift by developing and offering a digital solution is poised for future success," he went on to say.
Study rankings
After sharing those findings and recommendations, J.D. Power went into how lenders ranked in the latest study.
Hyundai Motor Finance came in highest in the retail captive segment with a score of 901 on a 1,000-point scale. Honda Financial Services (893) ranked second and Ford Credit (889) placed third.
In the retail non-captive segment, TD Auto Finance came in highest for the fourth consecutive year with a score of 917. IA Auto Finance (912) landed second and Scotiabank (901) placed third.
In the lease segment, Honda Financial Services topped the rankings with a score of 912. Kia Motors Finance (906) followed in second and Toyota Financial Services (883) came in third.
The 2021 Canada Dealer Financing Satisfaction Study, now in its 23rd year, captures 7,190 finance provider evaluations across the three segments from new-vehicle dealerships in Canada.
The study was fielded in February.
For more information about the Canada Dealer Financing Satisfaction Study, go to this website.