July's 10 most-funded used-car models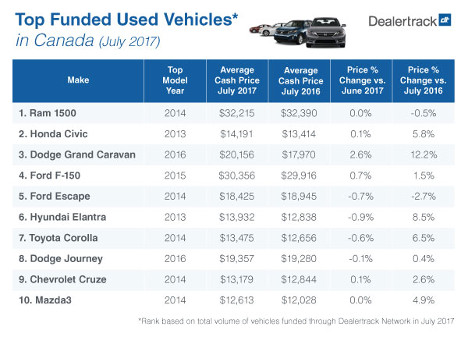 MISSISSAUGA, Ontario -
In its latest monthly report on Top Funded Used Vehicles, Dealertrack Canada spotlighted the 2016 Dodge Grand Caravan.
For July, the minivan was third on the list, which is based on data from the Dealertrack online credit application network, and the only vehicle in the top 10 that saw a real meaningful price change from June.
But Dealertrack also shared a few other reasons the Grand Caravan was unique, including this nugget: three-fifths of its drivers (61 percent) are married.
Now, the fact that a lot of minivan drivers are also married folks might not be shocking news.
But no other vehicle on the list had that high a proportion of its ownership being married.
And it wasn't even close: Second on the list was the Dodge Journey at 51.8 percent.
Other interesting tidbits, per Dealertrack Canada:
Average age of buyer was 43, which was second-highest on the list, next to the Ford Escape (44).
Nearly two-fifths (38 percent) had a trade-in with their purchase.
Top city for these buys was Edmonton, Alberta.
Among its buyers, 60 percent are male, and 40 percent are female.
Average annual income was $56,409, second-highest on the list next to the Ram 1500 ($69,046)
Forty-four percent added an extended warranty
Here's how the price shifts worked last month. The used 2016 Grand Caravan's average cash price was $20,156 in July, which was up 2.6 percent from June. All other vehicles on the list saw their prices change by less than 1 percent (be it an increase or decrease).
The van's 12.2-percent year-over-year price increase was also the most significant among the top 10 and the only double-digit change either direction.
The full rankings, which can be found here and in the window above, are based on total volume of vehicles funded via the Dealetrack Network last month.