Kot Auto Group opens first standalone Genesis facility in the Okanagan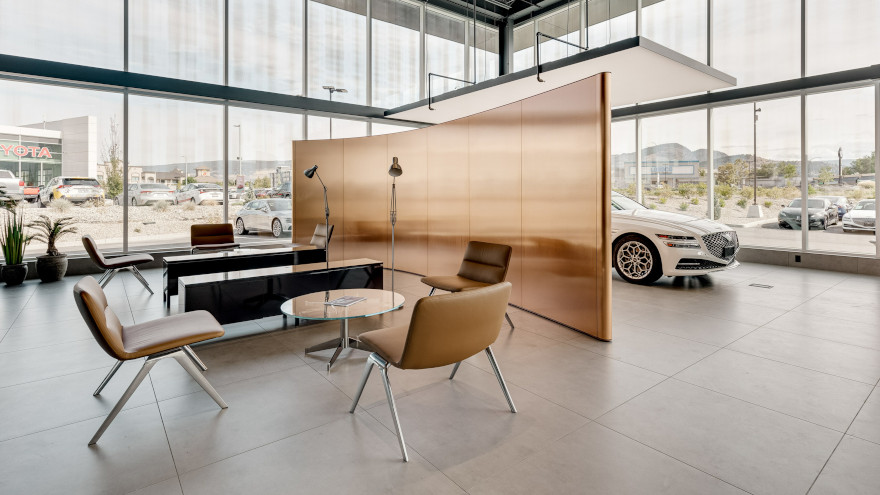 A new luxury auto facility is coming to the Okanagan territory. British Columbia's Kot Auto Group is opening what it calls the first standalone luxury boutique Genesis facility in the territory.
The auto group is expanding its Genesis Kelowna to a new facility that aims to showcase the brand's modern design.
The new Genesis location is located off Highway 97 on Cary Road. It will be its own facility separate from Kelowna Hyundai.  Genesis Kelowna is located next door to Kelowna Hyundai and directly in front of Buy Direct Truck Centre. This brings the dealer group to three locations on Highway 97 and Cary Road.
The new Genesis store is designed to give customers a "first-class experience" in auto, the dealer group said in a press release. The facility has an open floorplan to support the portfolio of all Genesis models and electric vehicles.
"This has been a great year for Genesis. Opening the standalone retail facility separate from Kelowna Hyundai is the perfect way to showcase the luxury brand while having the ability to focus on the retail experience for our customers. We have been excited for this expansion since being awarded the brand in 2018," said John Kot, owner of Kot Auto Group, in a press release.
Service customers can wait for their vehicle to be serviced in a waiting room separate from where transactions are taking place. A concierge provides refreshments.
For those in the market for a vehicle, the dealer group said the purchase experience  can also be managed through the brand's Genesis at Home service, which is a complete online sales platform. The Kot group said, this digital approach "has changed the landscape of luxury buying in Kelowna and surrounding area."
The dealer group is also looking forward to selling the new electrified GV70, which just hit the market. This joins the Genesis CV60 band G80 for EV options. Gas powered models include the G70, G80, GV70, and GV80.
Last year,  Kot Auto Group added its first Chrysler-Jeep-Dodge-Ram store, purchasing Woodgrove Chrysler. The store is Kot's second on Vancouver Island, having purchased Victoria Hyundai in June 2019.
The Kot Auto Group is family owned and operated and has nine dealerships across British Columbia.