Land Rover, Subaru Notch Top Honors in ALG's Residual Value Awards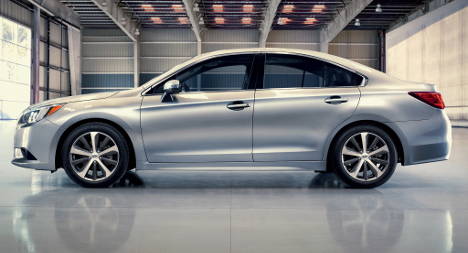 TORONTO -
The results of ALG's 7th annual Canadian Residual Value Awards were announced today, with Land Rover and Subaru coming out on top.
Land Rover and Subaru, known for its loyal customer base, took home the awards for overall Premium Brand and Mainstream Brand, respectively.
When it comes to segment awards, Toyota and Lexus reigned supreme, coming away with a total of 10 segment awards.
This year's awards were given to 2015 models on sale that have shown strong price retention in their segments. The awards will be on display this week at the Toronto Auto Show.
"Residual value is important for automakers and consumers because it's a complete indicator of the vehicle's future value," said Larry Dominique, president of ALG. "Since 1981 in Canada, ALG has annually scrutinized reams of data pertaining to vehicle quality, durability and brand desirability to produce the most thorough, accurate indicator of vehicle value in the industry."
This was the first year Land Rover took home an overall win in the premium market. ALG asserted the recognition was due in part to "consistently delivering a steam of hot, new vehicles that consumers desire."
Dominique said, "Land Rover's brand stands for unparalleled capability paired with ultimate luxury. Some Land Rover models are in such high demand that they're selling above MSRP — a remarkable achievement that's only possible with manufacturer restraint and a tightly controlled supply chain."
Taking a look at the mainstream brand winner, Subaru returned to the top on the strength of the brand's commitment to performance, durability and safety, ALG analysts reported.
"Subaru continues to expand its customer base with compelling redesigns like the all-new Legacy and Outback," said Dominique. "Restrained fleet sales and incentives ensure that sales growth occurs by organic retail demand, which enhances Subaru's used market brand image."
Another outstanding performer in the awards listings this year were Toyota and Lexus.
Toyota took home seven segment awards among mainstream brands. This included the Tundra pickup truck's sixth win and the Tacoma's fifth consecutive RVA award.
On the luxury side, Lexus notched three RVA awards for the Lexus NX, Lexus GX and Lexus LX.
ALG also picked out a few additional highlights that showcase the diversity of the awards this year, including:
The Ford Transit and Transit Connect won their inaugural RVAs in the full-size and midsize commercial van segments, respectively.
The all-new Nissan Micra's topped the all-new city car segment;
The Hyundai Genesis' notched the first award for Hyundai Auto Canada in the premium full-size car segment.
The redesigned Maserati Quattroporte's won in the premium executive car segment.
The Range Rover Sport took home the honors in the premium midsize utility (2 Row) segment.
"It is great to see such a diverse mix of brands winning this year," Dominique noted. "It demonstrates the industry continues to improve residual values, benefitting consumers and automakers alike."
ALG's Canadian Residual Value Awards recognize vehicles in 27 segments that are forecast to retain the highest percentage of their MSRP after a three-year period for premium brands and a four-year period for mainstream brands.
Below is the full list of 2015 ALG RVA winners: