Leavens Certified aims to beat margin pressure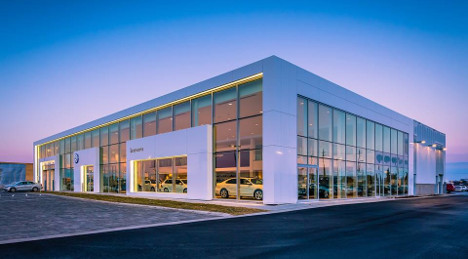 Compressed margins. High wholesale prices. Reconditioning expenses. Ring a bell?
For many dealers, keeping their pre-owned lots well stocked while also making a profit has been difficult over the past 10 years or so.
And even though many are predicting wholesale prices to drop over the coming years as lease returns start flowing in, prices in the lanes remain high.
Chris Leavens, owner and dealer principal of Leavens Automotive Group — comprised of five stores covering the VW, Porsche and Audi brands — hasn't been immune to these trying used-market trends.
But his dealership tackled the issue head on and found a way to alleviate compressed margin pain felt in the dealership, while also retaining the confidence of their used-car customers.
The answer: Leavens Certified. On top of participating in the factory CPO programs for their respective brands, the Leavens Automotive Group also offers certified used vehicles through its own branded program.
With both the factory and dealer certified vehicles selling well, Leavens noted close to 100 percent of the group's used vehicles are certified.
While the factory CPO programs are helpful and largely popular among customers, Leavens pointed out there were some perfectly good used vehicles that just didn't quite meet the requirements. And it was simply too expensive to recondition these vehicles to factory CPO standards.
"The factory certification programs are very stringent, and with the compression of the margins, we found with some cars it was just too expensive to bring them to the factory level," said Leavens. "So the Leavens Certification still gives that customer peace of mind. And we feel it is a step above the non-franchised used cars."
The dealer group launched the program about a year ago. Leavens said it has done very well because customers continue to see more and more value in factory CPO programs, as well as dealer-group certifications.
The Leavens Certified program includes:
112-point inspection on all makes/models
Remaining comprehensive warranty or 6-month/6,000-kilometer Global Ultimate Superior Value Warranty
6 months roadside assistance
24 months paintless dent removal with regular scheduled maintenance
72-hour exchange policy
CARPROOF Vehicle History Report
Maximum value pricing
Leavens described the program as a "happy medium" between non-certified used vehicles and the factory CPO cars.
"So we can meet the customer's high expectations with things like the exchange policy and roadside assistance, but we don't have to have say, 50 percent of the brakes left, or 50 percent of the tires, which are the things that sometimes drive the recon price for CPO vehicles beyond the market," Leavens explained.
The program also helps the dealer group stand out from the pack amid their competition.
"We try to give people the same buying experience purchasing a pre-owned car that they would get buying a new car from us, and this certification program helps us do that," Leavens added.
Diversifying the used lot
As for what vehicles and models are selling particularly well under their branded certification program, the Volkswagen Jetta continues to be a great seller. But what Leavens said he is really noticing is more consumer interest in trucks and SUVs. For the VW brand, that means more pre-owned Tiguan sales.
"They are really selling well right now. I think that is a market trend right now. We aren't alone in that. We are really seeing trends go more toward trucks and SUVs," Leavens said. "In fact, we stock off-make trucks in all the stores now because they sell really well."
He shared diversifying their used inventory to mirror new-car market trends has been key to success in their used department.
"With the new-car market being over 50 percent trucks and SUVs, we really want to see our used-car inventory mirror new-car sales at roughly 50 percent trucks and SUVs," said Leavens. "And we are finding VW not having any trucks and only one large-selling SUV, it has made us really look at off-brands to ramp up the supply of vehicles to meet consumer demands."
Leavens and his used-car managers are finding these quality used cars — on-brand and off — by working their customer databases, as well as other dealerships and auctions. They also employ manufacturer online services to find inventory, as well.
As far as how off-lease trends are impacting the dealerships and their used inventory, Leavens said incentives are strong, which is helping pull people out of leases. But with VW in particular, values are very strong in those lease-end vehicles.
"We haven't seen a particular benefit from the growing number of lease returns yet for the used-car department. The gross on those vehicles in a real challenge," Leavens said.
Volkswagen dealers have also been impacted by the so-called "Dieselgate" lawsuits, and the volume of trade-ins has dropped off.
"That has caused all VW dealers to look to outside sources, such as auctions and wholesalers. And that has naturally driven the value up a little bit on the cars," Leavens said. "So we haven't seen any drop in VW wholesale prices. In fact, we might have even seen a slight increase due to the demand by the dealer body in Canada."
But, a significant number of VW customers remain loyal to the brand, Leavens said, and this is always good for the used department.
"In general, all these brands have very good customer loyalty. Porsche is probably the best of all of them," Leavens said. "And this certainly helps us stock our used lots, and sell off of our new."