With CPA background, Dejong leads CARPROOF big data & analytics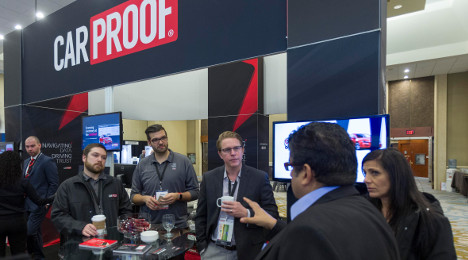 LONDON, Ontario -
The point of big data and analytics, CARPROOF vice president Joe Varkey says, is not to just generate a ton of data.
You have to make it useful for your customers, he adds.
That's where Shane Dejong and his team come in.
Dejong is product manager for data science at CARPROOF and he heads up the company's efforts around big data and analytics.
His background is as a certified public accountant, but his work with a previous employer five years ago shined a light on how big data would become of critical importance in coming years.
That certainly has come to fruition: The science of big data and analytics is one of emerging hot topics in the used-car space.
Dejong has been working in big data and analytics and signed on to the CARPROOF team a year-and-a-half ago.
He also has gone back to school for a master's degree in predictive analytics from Northwestern.
Data science in product creation
As far as CARPROOF's move into big data, it has long been a player in the vehicle history space and has recently jumped into vehicle valuations.
Those areas lend themselves to significant data access, Varkey said, and CARPROOF is aiming to utilize that to help its customers.
"There are a lot of companies out there using data science right now. And what most companies are doing with it is, they're improving their internal operations," said Dejong, who along with Varkey talked with Auto Remarketing Canada by phone in May. "They're optimizing their pricing, they're targeting their sales and they're using data science to really optimize their operations, manage costs, drive revenue."
And while those tasks would certainly be on CARPROOF's to-do list, they also want to use data science towards product creation, Dejong says.
"The data that we've got and our experience in the industry, in both the history and now in the valuation space, we can use our data to create products through advanced analytical models of data science that will better serve our customers, allow our customers to easily interpret and apply data to make the best decisions that they can using our products," he said.
When asked about current projects in this direction, Dejong said CARPROOF has recently completed testing on what the company is internally calling a valuation model, though there's no set brand name at the moment.
It builds on the CARPROOF Vehicle Valuation Report launched last May and its vehicle history reports.
"We've got our valuation product, VVR. That's really a tool to allow dealers to appraise and price vehicles appropriately using comparable data," Dejong said. "What this approach will do is, we're actually taking all of the data we've got in our database, combining that with data we've got in our vehicle history reports and we're giving a single value — let's call it a third-party valuation — down to the penny for any given vehicle in the marketplace.
"Now, there's people doing valuation. But as our customers all know, in the used-vehicle space, every vehicle is different," he said. "That's where our advantage of knowing all the history of a vehicle comes in, where we can leverage that information, plug it into our valuation engine and we can give a market value for that vehicle."
Dejong declined to give a specific timeline for the product, but did note that it's something that will continually evolve. CARPROOF will be working on it this year, and hopes to eventually integrate it with their product line.
Process of simplifying data
One issue around big data is that it's, well, big. So much information, so many data points.
How do you make it simple and useful?
"That's kind of the whole point of what we're trying to do, actually. Because we've got so much data and it comes from so many sources and we've got years and years and years of it," Dejong said. "And then obviously the goal is to create an output that's usable, easy to interpret for our customers, that's going to allow them to make the best decision that they can.
"What we're trying to do is add value by giving the most simple and concise output that we can to our customers."
And that is where the data management team comes into play. CARPROOF has been "beefing that area up" in the last two years, putting a lot of dedicated resources behind that to help the data science access data in accurate, easy, proper format.
Demand for valuation
Asked if there was a particular reason why valuation was the first area they were tackling, Dejong — without getting too specific — explained: "I think if you look at where this industry is going, having a proper valuation on a vehicle, having the most accurate model that all of our customers, whether those would be dealers, manufacturers, the customer buying or selling the vehicle – whoever it is that's going to be relying on these values – having a proper and accurate and fair value is, in our opinion, going to be the most important thing over the next few years as transactions might change in how they're executed."
He said it is both dealer and consumer demand that is driving this, but added: "Right now, our biggest customers are dealers. So we're building this thing with them in mind. But that doesn't mean that both buyer and seller shouldn't have access to valuations. To me, that enables a more efficient and transparent transaction."