Lexus Downtown uses indoor CPO showroom & service to 'wow' pre-owned customers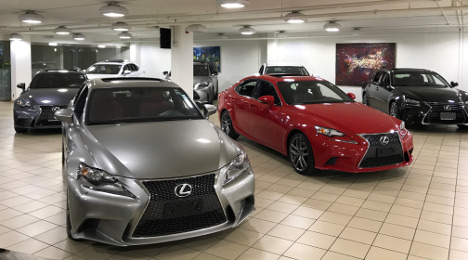 TORONTO -
Treat your used and certified pre-owned vehicle customers the same way you treat your new-car customers. This seems to be a recurring theme at dealerships that sell certified vehicles. And the case is much the same at Toronto's Lexus Downtown.
But the luxury dealership that has been in business since 2011 takes it a step further, says general manager Christopher Lina.
Lina told Auto Remarketing Canada the store has an indoor pre-owned showroom that holds more than 50 Lexus CPO vehicles.
How does this help the dealership secure used sales? Well, when customers enter the pre-owned showroom, they are often confused, said Lina. They automatically think the cars are new.
"It's on a different floor than the new cars, but everything looks like a brand-new showroom and new vehicles, mostly because of the stringent CPO specs," said Lina. "It's not like an outdoor used-car lot where there is dust, dirt and more. These vehicles are pristine and look like they just came off a car from Japan."
At Lexus Downtown, 70 percent of the used cars at the dealership are certified — at a minimum.
As for how the dealership's staff treats CPO guests, Lina says sometimes pre-owned guests need even a bit more attention than new buyers.
"People are sometimes nervous about getting a pre-owned vehicle because of the history," said Lina. "They really want to make sure they are getting the best bang for their buck."
Naturally, when a guest comes in for a new vehicle, they know they are getting a full warranty — and the price is not going to differ very much from one dealer to another.
"But every pre-owned vehicle is unique," said Lina, which makes presentation and service even more important.
"There are no two pre-owned vehicles that are the same, and when you can highlight that a vehicle has no scratches, looks brand new and it's pre-owned, that right away gives them huge confidence that this is the right purchase decision," said Lina.
What are the best sellers in the dealership's pre-owned showroom? That would definitely be the brand's SUVs — the Lexus RX and the Lexus NX.
"These are by far our best-selling CPO vehicles consistently," said Lina. "SUVs have definitely taken over the market. I'm not sure what you drive, but I don't see any more households that don't own an SUV."
Taking customer service to next level
Customer retention is key for Lexus Downtown. In fact, more than 75 percent of their used inventory is directly tied to the flow of lease returns and early terminations of leases.
"Our success is tied to the ability to take these customers and get them out early of their current lease, put them into a new car, and then obviously take the vehicle they are dropping off and market it in our pre-owned department," Lina said.
"We then turn more of these vehicles into CPO inventory, which makes everybody happy. Sales guys are happy; service guys are happy," Lina added.
The service department plays a huge role in ensuring customer loyalty in any dealership, but at Lexus Downtown, Lina said it is particularly important.
"One of the most important things to us is the constant communication. I mean we don't bombard customers or anything like that, but we are definitely in touch with them, whether it be digitally or by phone, at least quarterly."
If the customer is in a good position to get out of their current lease or vehicle and get into a newer car with a similar payment, Lina said, "We're all over it."
Of course, the service and sales departments are very connected. Lina explained the dealership gives any customers that come in the service department the opportunity to sit down with either a salesperson or a sales manager to review where their lease and financing stands, and give them the chance to look at new vehicles.
Lina says ultimately, customer service to the dealership means differentiating itself from other Lexus stores in the country by "exceeding customer expectations."
And this isn't easy.
"There's not one Lexus store that I would say performs at a level of mediocrity. To have a Lexus franchise, you are basically at a level of where expectation is more than 100 percent. And how do you separate yourself?" asked Lina. "It's very difficult."
One of the most obvious areas where Lexus Downtown pushes the envelope on customer expectations is their concierge service.
The dealership doesn't wait for their guests to come into the service department — they offer to pick up their cars for them, and they will then drop a loaner vehicle off at their home, as well.
"We will bring their vehicle in here, we will service their vehicle, get it washed, spic and span, and bring it back to their home or their office," said Lina. "We want the experience of service here to be seamless. They don't even have to come here."
The flexibility of Lexus Downtown's concierge service can be particularly important to Toronto's high-powered business men and women.
The dealership picks customers up when it's convenient for them — not just when the vehicle is ready.
"When the vehicle is ready, maybe our customers aren't ready, and we say, ''No problem,'" Lina said.
Some of their guests make it a regular thing. They go on business trips, bring their vehicle in for service, and then get dropped off at the airport. A couple of days later, a Lexus Downtown rep is at the airport again to greet them and take them to their newly serviced vehicle.
"We are saving them money on limo service going to the airport, and they remember it," said Lina. "And what they do is say, 'Ok, when is our next trip? Well I'm just going to schedule our service in August. That way we can get a free ride to the airport and back."
The key: They tell everybody about it, too. Word-of-mouth, plus an impressive Google Review standing (4.7 out of five points) helps Lexus Downtown grab even more customers out of the luxury pool.
"Every delivery we do, anyone who comes in for service, anybody who visits us, we say, 'Listen, I hope your experience went very well, and if you have the time, please leave a Google review about us, good or bad," said Lina. "It's just how the world works now."