Manheim Toronto Turns 50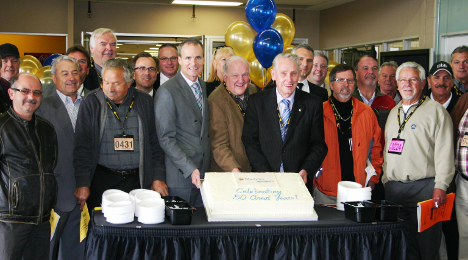 MILTON, Ontario -
Manheim Toronto is 50 years old this year, and the auction chose to celebrate this milestone earlier this month.
Manheim Toronto, which opened in August 1964, hosted anniversary sales during its regular consignment sales on Oct. 7 at 10 a.m. and Oct. 9 at 6:30 p.m.
The Town of Milton, Ontario, Mayor Gord Krantz even made an appearance to honor the business on its Oct. 7 sale day.
According to the latest edition of the Front Line newsletter from the Used Car Dealers Association of Ontario, the auction celebrated 50 years with a pre-sale ceremony.
"We were delighted to host a pair of sales to celebrate Manheim's 50 years in Toronto," Manheim Toronto general manager Don Wallace said. "It's an honor to be a part of the company that forged the way for the auction industry in Canada, and also enjoyable to recognize so many of our longtime employees and customers. We look forward to the next 50 years!"
What is now known as Manheim Toronto was originally opened by Homer Stephens and Ruth Hart-Stephens.
The UCDA is directly connected to the auction as Homer Stephens was instrumental in getting the association off its feet by spreading word about the new organization, according to the recent newsletter.
And Ruth Hart-Stephens stayed on as general manager after the auction was bought by Manheim and eventually served as the vice president of Canadian business operations for Manheim until she passed away in 2007.
The 50-year-old auction is now run by general manager Don Wallace. And the UCDA still partners with the auction by sponsoring lanes and offering special promotions for members at Manheim Toronto.