March CPO Sales See Double-Digit Spikes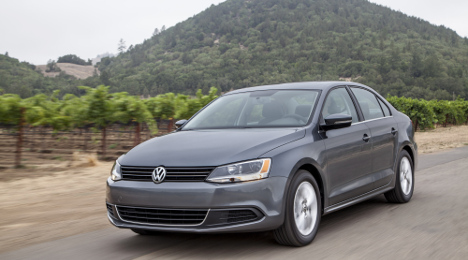 TORONTO -
Though many automakers and dealers are still struggling to supply their certified pre-owned programs as quality pre-owned vehicles remain hard to find in this tight supply environment, a few European automakers have seen certified sales soar since 2014 got underway.
One of these is Volkswagen Canada, which notched an all-time record month in March.
VW sold 1,513 CPO units in Canada last month, beating out the previous record of 1,510 units, which was set in May 2012.
This record-breaking number from March compares to 1,169 units sold during the same period of 2013, making for a 29-percent year-over-year increase.
"March 2014 was the best-ever CPO sales month for VW dealers. VW dealers are highly focused on providing top quality vehicles within the class-leading CPO program. Congrats to our dealers and field organization on their record-breaking performance!" said Luigi Fiorino, manager used vehicle sales, at VW Canada.
Audi Canada also saw an over 20-percent increase in CPO sales this past month.
Elankum Vairavanathan, who is the manager of incentives planning and CPO sales for Audi Canada, told Auto Remarketing Canada the automaker had "a great month," retailing 465 CPO units in March.
This is the best March ever for the company and sales came in 22 percent higher than the 374 units sold during the same period of 2013.
So far this year, the company has sold 1,126 CPO units, up 12.6 percent over last year's numbers.
Another luxury automaker, Porsche Canada, notched 97 CPO sales in March, bringing the automaker's total to 233 certified sales for the first quarter.
The Mercedes-Benz Pre-Owned division also reported a strong performance in March with 1,361 vehicles sold. This represents an increase of 92 units (or 7.2 percent) for the month, and helped bring year-to-date growth to 4.6 percent, with 2,984 CPO units delivered so far in 2014.
Rounding out the European automakers who have reported results so far, Volvo Cars of Canada finished the month up with a total of 95 sales in March, notching a 6.7-percent increase from February results.
That said, this number is down 20.2 percent from the 119 CPO units retailed during the same period of 2013.
That said, Emanuel Lichtinshtein, national fleet sales, CPO and remarketing manager, Volvo Cars of Canada Corp., remains positive: "The initial response to the V60 Sportswagon and the technologically advanced family of powerful yet fuel efficient Drive-E four-cylinder engines mean an optimistic forecast for CPO sales in 2014."
Though many of the Japanese automakers have struggled as of late to find the used supply they need and stay on par with European automaker CPO sales, Mazda Canada's fledgling CPO program made a comeback this past month.
According to Bryan Leaitch, manager, CPO, for Mazda Canada, the company sold 503 CPO vehicles in March, up from 446 sold during the same month of 2013.
These sales brings the year-to-date number closer to sales rates seen in 2013: the company has sold 1,140 CPO vehicles this year so far, down only slightly from the 1,170 sold during the same period last year.
Lastly, Toyota Canada CPO numbers still remain quite a bit below 2013 rates. The company sold 1,492 certified vehicles last month, down from 2,002 sold during the same period of 2013.
Year-to-date, Toyota Canada has sold 4,175 CPO vehicles, down from 4,966 sold during the same period of 2013.
Editor's Note: Stay tuned to Auto Remarketing Canada as more CPO results are reported.