Mazda Canada Picks Xtime for Service Retention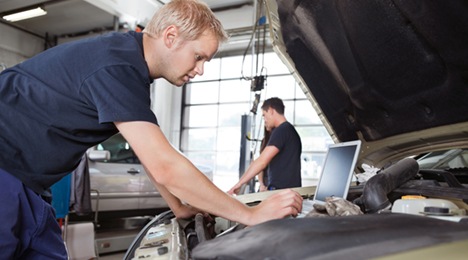 REDWOOD CITY, Calif. -
In this tight supply environment, the service department becomes an invaluable tool for securing trade-ins to feed dealership's used and CPO departments.
Now, Mazda Canada dealers have a new tool to ensure customer satisfaction and loyalty through the service department.
Mazda Canada announced it has chosen Xtime for its exclusive provide for service scheduling via online, dealership and mobile device channels.
"To keep pace with rapidly changing consumer preferences and increased customer expectations, Mazda Canada has selected Xtime as our exclusive technology partner for all online service appointment scheduling services," said Mazda Canada senior director of customer experience Mike Collinson. "Xtime is a great addition to our customer service and retention tools, and we are excited about our partnership."
Mazda's 163 dealership service departments in Canada are now able to take advantage of Xtime's service scheduling and check-in platform, the automaker shared.
The automaker highlighted just a few of the tools Mazda Canada dealers now have at their disposal:
Xtime's Scheduling 7 gives Mazda owners quick and efficient access to dealership scheduling. With multi-channel capabilities, customers will be able to browse online or through smartphones and select appointment times based on availability, adviser and transportation. With this online access, customers can schedule any service or repair 24/7, while anyone in the dealership can answer the phone, address customer questions and book service orders.

Xtime's Check-In 7 frees Mazda service advisors from their desks, automating the check-in, walk-around, menu selling, tire selling and signed estimate process. With Check-In 7 delivered by ServiceTab on iPad, advisors can greet customers at their vehicles on the service drive, providing a consistent and professional write-up.

The Xtime Cloud powers both solutions and provides secure, consistent and accurate access to factory menus, dealer recommendations, declined services, pricing, promotions, shop availability, repair history and RO status.

Earlier this year, Xtime released the Xtime Retention System, the first end-to-end retention system for automotive retailers to solve the industry's low retention and utilization problems. It is comprised of products that integrate key touch points of the service experience into a unified and easy-to-use system for consumers and service personnel.
"We are delighted to finally be working with Mazda Canada," said Neal East, chief executive officer of Xtime. "We are impressed with its commitment to providing an exceptional service experience to its customers and we're committed to helping Mazda Canada achieve its vision."