Mazda, Hyundai celebrate Canadian sales milestones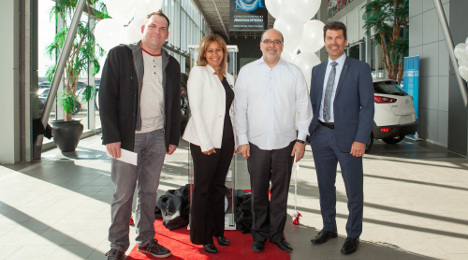 TORONTO and RICHMOND HILL, Ontario -
Mazda Canada and Hyundai Auto Canada Corp. each recently celebrated significant sales milestones during deliveries of some of the automakers' most popular models.
First over at Mazda, OEM officials highlighted their two-millionth sale in Canada with one lucky customer, Bruno-Pierre Gougeon. The milestone vehicle sold was a 2016 Mazda3, which is Mazda Canada's best-selling vehicle, with over half a million sold in Canada since 2003.
Perhaps not coincidentally, the automaker pointed out this vehicle was sold by Mazda Canada's largest volume dealer, Albi le Géant Mazda in Mascouche, Quebec.
To mark the occasion, Mazda Canada held a celebration event at Albi le Géant Mazda for the owner of the two millionth Mazda sold in Canada with members of Mazda Canada and the dealership in attendance.
In addition to becoming part of the Mazda family, Bruno also received two years of payments waived along with two years of complimentary maintenance.
"This is a great milestone achievement for Mazda in Canada, and is the result of our challenger spirit that springs from our heritage in Hiroshima, Japan," said David Klan, senior director of sales, marketing and regional operations for Mazda Canada.
"We love to share our exceptional products with Canadian customers who also believe that driving matters — people like Bruno, who is proudly driving this milestone vehicle," Klan continued.
Mazda Canada entered the Canadian market in 1968 with less than 1,000 sales in their first year. As the years passed and more models were added to the lineup, the sales also grew with the model count.
The first full year to hit 10,000 sales happened in a mere three years, in 1971, and the next milestone of 50,000 annual sales occurred in 1991.
The most popular vehicle in 1991 was one of the vehicles that kicked off Mazda's history in Canada — the B-Series truck.
500,000th Hyundai Elantra sold in Canada
Hot on the heels of the February launch of the all-new 2017 Elantra compact sedan, Hyundai Auto Canada announced it has reached a sales milestone with the Elantra nameplate, achieving 500,000 cumulative sales since June 1991.
The automaker indicated the milestone sale — a 2017 Elantra GL — recently was delivered to a customer in Montreal.
With the arrival of the 2017 model, six generations of Elantra models have been displayed in Hyundai dealership showrooms coast-to-coast. For company executives, the all-new Elantra has some big shoes to fill.
"The fifth generation Elantra won both North American and Canadian Car of the Year awards in 2012 and has been Canada's second-best selling passenger car since 2013, so we have high expectations for this all-new vehicle," said Don Romano, president and chief executive officer for Hyundai Auto Canada.
"The Elantra, in all of its versions, is our most successful nameplate, by far. It's the first Hyundai vehicle to reach 500,000 sales and is an important player in the country's compact car market," Romano went on to say.