In memoriam: Kathy Ward, former Canadian Black Book CEO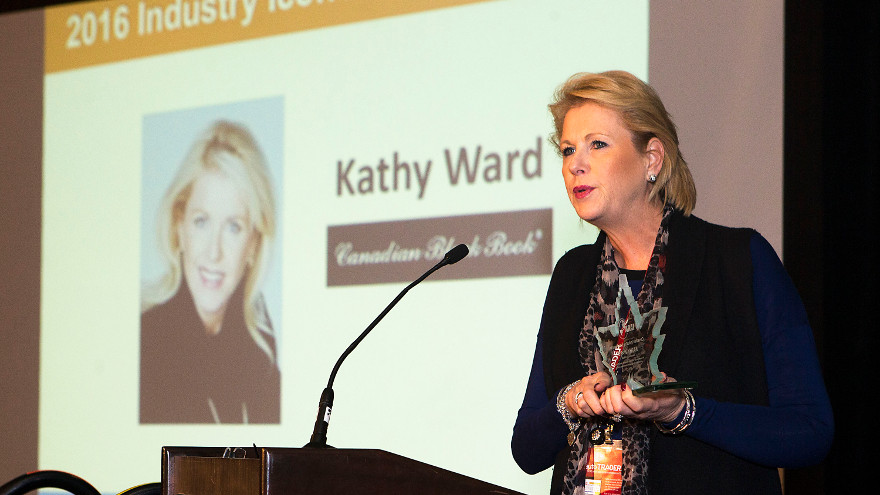 Kathy Ward, former president and chief executive officer of Canadian Black Book, passed away on Christmas Eve. She was 60 and had been battling cancer.
She had retired in September of 2016, and Brad Rome replaced her as president.
"Kathy was a true industry icon and pioneering example of female success in automotive," Rome said in an email statement. "Her greatest strength was building relationships. Through her connections and decisiveness, Kathy helped modernize Canadian Black Book. She led the company with confidence through the recession, coming out even stronger into the age of digital and data. She brought that confidence with her everywhere and really showed that the automotive industry was not designed solely for men."
After studying sales and marketing at Seneca College and a brief stint in cosmetics, Ward began working in 1980 as an office administrator at Canadian Black Book, founded by her father, Bill Ward.
Kathy rose up the company ranks, ascending to its highest offices in 2006 following the death of Bill Ward. Yet even before her father's passing, Kathy recognized technological changes in the industry and how data would be purveyed in the future. Bill allowed her to steer the company towards a larger digital footprint.
In 2010, Kathy orchestrated her fait accompli — the establishment of CanadianBlackBook.com as the company's primary source of information to consumers. Five years later, she also helmed negotiations in selling Canadian Black Book to Hearst Business Media in the United States.
Before her retirement, Ward served as one of five advisory board members for the inaugural Women & Automotive Canadian Leadership Forum, soon to hold its third meeting in late March.
"Kathy was such a great leader, innovator and friend," said Bill Zadeits, president of Cherokee Media Group. "When we launched the first Auto Remarketing Canada event in 2000, Kathy was one of the first to encourage and counsel us and to commit sponsorship and support. This leadership quality continued with our company further, as she was one of the leaders in the formation of Women & Automotive in 2015, as well. Her wisdom, warmth, sense of humor and friendship will be dearly missed."
At the 2016 Auto Remarketing Canada Conference, Ward received the IARA's Canadian Industry Icon Award, dedicating the honor to her father Bill.
"He was one of the greatest people in this industry," Ward said during her acceptance speech. "He really taught me how relationships are so important."
A Celebration of Life event will be held at Universal EventSpace in Vaughan, Ontario on Jan. 23 from 2 p.m. to 6 p.m.; a tribute begins at 3 p.m.
Kathy's family has requested that anyone with any pictures they wish to share should send them to info@tada.ca along with any note they wish to extend. Sympathy contributions may be made to Tim Horton Children's Foundation, a favorite charity of Kathy's.