Mercedes-Benz Canada Appoints New Brampton Dealer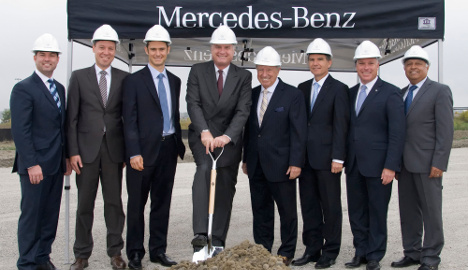 TORONTO -
Mercedes-Benz Canada is expanding its presence in the Greater Toronto area by appointing a new dealer.
Company executives and the dealership's new management recently turned over the first shovelful of soil of the future Brampton-based facility.
Mercedes-Benz Brampton will be run by Sam Eltes and Jonathan Eltes, dealer principles, as well as Gary Williams, the store's general manager.
"Sam Eltes is a long-time trusted partner of Mercedes-Benz Canada and it is our pleasure to welcome him and his team to the Greater Toronto Area. They bring a great deal of experience and knowledge which will make the start up process smoother and more fluid for the benefit of their new customers," said Tim Reuss, president and chief executive officer of Mercedes-Benz Canada. "This new facility will also provide another convenient point of sales and service in the GTA to effectively serve the needs of existing and future customers in this important growing market."
During the groundbreaking ceremony, the group was also joined by Rob Girouard, general manager of Silver Star Mercedes-Benz, located in Montreal.
Mercedes-Benz Brampton will be the second Mercedes-Benz banner for the Silver Star organization.
Construction of the new facility began in August on a six-acre site located on the southeast corner of Mayfield Road at Highway 410.
And this will be a quick turnaround, as the facility is scheduled to be fully operational by May 2015.
The store is set to be 60,000 square-feet and will house the Mercedes-Benz, AMG and smart brands.
A service area that will feature 29 work bays will take up 30,000 square-feet.