Mercedes-Benz Canada to Debut Updated Retail Identity with New Quebec Store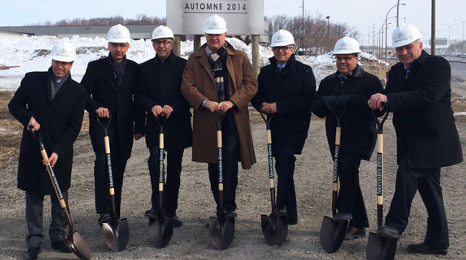 TORONTO -
Mercedes-Benz Canada broke ground on a new dealership in Quebec this week that will serve as a debut to what the company is calling "the new Mercedes-Benz retail corporate identity," where black with silver accents will be the theme of the day, replacing the blue colors traditionally seen in the luxury stores.
Company leadership broke ground for the new dealership in Pointe-aux-Trembles, Quebec, this week, launching the construction process that will officially being shortly, according to the company.
On Wednesday, Tim Reuss — president and chief executive officer of Mercedes-Benz Canada — was joined by members of the company's senior management to help Gabriel Gennarelli, dealer principal of the future retail facility, turn over the first shovelful of soil. This celebrated the official inauguration of the brand new dealership in Pointe-aux-Trembles, Quebec.
"It is our great pleasure to welcome Gabriel Gennarelli to our dealer network. We quickly realized that Mr. Gennarelli was truly motivated to represent our brand in the east end of Montreal." said Reuss. "Montreal has always been a high priority in the growth strategy of Mercedes-Benz Canada, and we are very glad that Gabriel and his team will expand our brand's reach into this important market."
The new store will be situated on a 3.9-acre site located off Highway 40 East at 12525 Metropolitain East Boulevard.
And construction is set to be a speedy process: the store is scheduled to be fully operational by the end of this year.
The new dealership will be set up on two floors, incorporating two separate new and pre-owned vehicle showrooms of 12,500-square-feet each.
The facility will be able to stock more than 80 vehicles inside the building, and will be home to a 13,000 square-foot service area.
The service area will tout 18 service bays, including two oversized bays designed to accommodate the Mercedes-Benz Sprinter.
The building was also planned with environmental sustainability in mind, and dealer principle Gennarelli has chosen to utilize locally sourced materials made of a high percentage of recycled materials.
Commenting on his new business, Gennarelli said, "We are extremely proud and delighted to be joining the Mercedes-Benz dealer family in Canada. The Mercedes-Benz brand is a symbol of prestige, performance and unwavering customer dedication and we are committed to building a business with the mission of exceeding customer expectations. We are confident that our newly appointed staff, in collaboration with Mercedes-Benz Canada's experienced team, will contribute to the continued success of the brand."
A little earlier this week, the company also broke ground for the construction of the second generation Mercedes-Benz Thornhill retail facility located in the upper northwest quadrant of the Greater Toronto Area.
Mercedes-Benz Canada will build a brand new corporately-owned flagship retail store on the same property at 228 Steeles West in Thornhill, the company noted.
Demolition of the two former buildings on the 3.2-acre property was completed in November 2013.
Sales operations have been temporarily relocated to 5840 Yonge Street in Toronto, and service operations are currently managed from 82 Green Lane in Thornhill.
"Over the course of the last 25 years, Mercedes-Benz Thornhill has generated some of the largest sales and service volumes in Canada year over year. Despite several renovations and expansions, the facility was no longer optimal," said Reuss. "It's never a good time to embark on such a massive and disruptive undertaking. We are grateful for our customers' and employees' patience and understanding during this elaborate reconstruction phase.
"It goes without saying that this new facility will further augment Mercedes-Benz Canada's prominence in the Greater Toronto Area as well as provide an outstanding new platform for all of us to deliver the absolute best automotive experience possible for our valued customers."
The new facility is scheduled to be fully operational in May 2015.