Mercedes-Benz Thornhill flagship open for business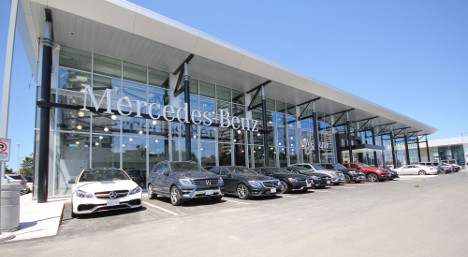 TORONTO -
Mercedes-Benz Canada recently announced the completion of its brand new flagship retail facility: Mercedes-Benz Thornhill.
The corporately owned store has a whole new look and is located in the upper northwest quadrant of the Greater Toronto Area at 228 Steeles West in Thornhill, Ontario.
Mercedes-Benz Thornhill originally opened in 1988 and after sustaining growth, the store expanded in 1996.
But again in 2013, the rapidly expanding local community created the need for an ever bigger rooftop.
A ground-up rebuilding project began, culminating into a more than 130,000 square-foot facility, which follows the Mercedes-Benz proprietary Auto Haus design concept.
The design features over 40 showroom vehicles on display, 32 service bays, six detailing bays, a six-vehicle service drive-through as well as dedicated AMG Performance and smart Centres.
The store also has its own 36,000-square-foot pre-owned vehicle showroom.
"We have been privileged to be an integral part of this strong and vibrant community for almost 27 years," said Philipp von Witzendorff, vice president and head of Toronto Retail Operations. "The mantra of our brand is 'The Best or Nothing', and it is our consummate objective to live by these words in every single aspect of the day-to-day operations of this dealership.
"We initiated this massive undertaking because our customers deserve the best products and service possible and this goes hand-in-hand with an excellent overall dealership experience. We are very proud of this new flagship location but we are even more excited about the opportunity to provide an entirely revamped level of service to our customers in Thornhill and its surrounding areas."
The company also explained the design was focused on sustainability and efficiency.
Von Witzendorff said, "We thank our dedicated employees, the community, and most importantly our valued customers for their undivided loyalty and patience during the challenging construction phase. As we endeavour to bring the various operations to a highly functional level in a very short period, we are convinced that you will collectively agree it was worth the wait.
"We very much look forward to serving our existing customers as well as welcoming the community members whom we'd be delighted to count amongst our future customers."