Mercedes-Benz Winnipeg Moving to Updated Facility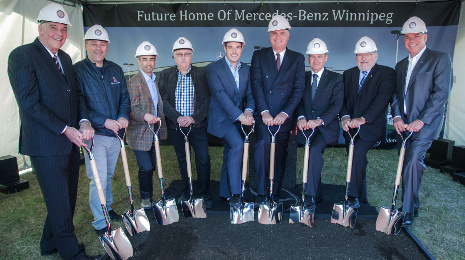 TORONTO -
Mercedes-Benz Winnipeg is getting a facelift, as store management and company leaders broke ground this week for a new location for the well-established dealership.
Tim Reuss, president and chief executive officer of Mercedes-Benz Canada, together with company executives, recently joined Winnipeg Acting Deputy Mayor, His Worship Grant Nordman; City Councillor Paula Havixbeck; and Mercedes-Benz Winnipeg president and general manger Brian Lowes to turn over the first shovelful of soil.
The Portage Avenue dealership — which has been in operation for more than 13 years — will be moving to a new retail sales facility at 23 Rothwell Road.
The company explained the expansion and new building has become necessary to keep up with the brand's growing product portfolio.
Lowes said, "Over the years, we have experienced tremendous growth and this brand new facility is a very important milestone in our company's development. We look forward to continue providing our customers an overall purchase and ownership experience that is commensurate with the Mercedes-Benz brand when we are fully operational in our new home in the spring of next year."
The new dealership will be located on a 3.28-acre site and is scheduled to be fully operational in spring 2015.
The new building will be 52,000 square feet and will include two floors to allow for two separate new and pre-owned vehicle showrooms. The old site building measured just 19,000 square feet
The large indoor space will allow for much of the inventory to be housed indoors away from inclement weather.
The service area will feature 16 work bays, including four bays dedicated to the Mercedes-Benz Sprinter vans, as well as an additional three-bay detail center.
The store will also include a six-vehicle customer drive-thru reception area.
As far as aesthetics, the layout of the new facility will follow the Mercedes-Benz proprietary Auto Haus design concept, and will also integrate the new Mercedes-Benz retail corporate identity where black will replace the blue colors traditionally seen in Mercedes-Benz stores.
"Brian Lowes is a dynamic partner who has successfully established the dealership into the Winnipeg community at large since joining our Mercedes-Benz Canada dealer network six years ago," said Reuss. "I congratulate Brian and his entire team for their hard work and dedication at their current facility. I am confident that Mercedes-Benz Winnipeg's new larger home and convenient location will provide an ideal platform to represent our brands and more effectively serve the needs of existing and potential customers in this burgeoning market."