MUVIT: Helping connect buyers, sellers from anywhere, anytime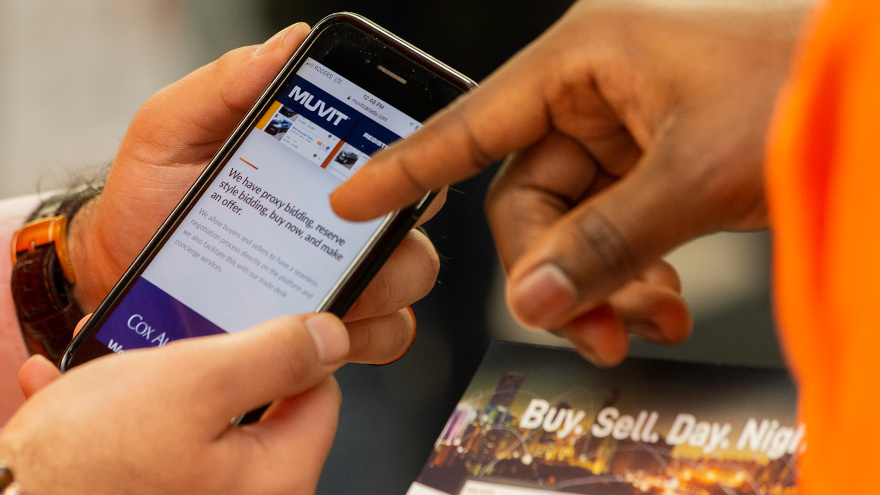 MISSISSAUGA, Ontario -
As digital wholesale platforms continue growing in Canada, Cox Automotive Canada has launched a new Canadian dealer-to-dealer digital auction platform that it says can use Manheim's brand and physical auction services to deliver a competitive advantage to all dealers and franchises.
The platform, called MUVIT, offers thousands of vehicles from coast-to-coast, according to the company, which adds that the platform adds fresh, high-quality inventory daily.
Cox Automotive Canada said the inventory is sourced from dealers, OEMs and fleet portfolios, which the company says removes the barriers of digital arbitration with direct access to Manheim services with the click of a button.
The company describes the platform as connecting "buyers and sellers from anywhere, anytime."
It was designed and developed in Canada and supported by PAVE, an artificial intelligence vehicle inspection technology. With MUVIT, users can post vehicles for sale within minutes, the company said. The platform helps connect expanded sales channels, data analytics and integrated services for online auctions, the company said.
Together, MUVIT and PAVE provide an inspection and listing process for online selling. Automated damage detection, a guided workflow for image capture and click-to-list capabilities helps MUVIT create a consistent experience on every vehicle, Cox Automotive Canada said.
That, according to the company, helps dealers buy and sell more vehicles with confidence.
With MUVIT, the company said, dealers can find the vehicles they are searching for and — all in one transaction and available 24/7 — purchase, finance, and order transport.
The company said the platform offers diverse channels so buyers can find the specific vehicles they need. It also offers access to all of Manheim's vehicle services, including arbitration, PayOnline, inspections, and transportation.
Other advantages of the platform for buyers, according to the company:
— Buyers get full transparency/disclosures on all vehicles sold, using the PAVE AI integrated inspection platform.
— Accurate wholesale market data refines bidding/purchasing to keep buyers current with vehicle trends through Kelley Blue Book values.
— From a desktop or mobile device, buyers can bid, buy, pay and order transport on all vehicles.
For sellers, the company says MUVIT's advantages include:
— In minutes, PAVE inspects and loads vehicles, which according to the company creates a seamless process and saves time with what it says is the industry's first automated damage detection.
— From a desktop or mobile device, more visibility and control over sellers' inventory at Manheim locations.
— With flexibility to offer sellers' vehicles in multiple digital channels to target what the company describes as the "right" buyers, that allows product to achieve the highest value.
— Sellers gain access to all of Manheim's ancillary end-to-end remarketing services with what the company describes as "the maximum amount of resources to increase speed to market."
— Support is provided from a trade desk sales team that the company says is dedicated to negotiating offers received on all sellers' vehicles—whether they are listed online or in-lane across Canada—which the company says helps close more deals and reduce days to sell.
"With the addition of MUVIT and its seamless integration with our existing and trusted Manheim, NextGear Capital, Ready Logistics and Kelley Blue Book brands, Cox Automotive is now able to deliver the most robust suite of services in the market," Cox Automotive Canada vice president, inventory & financial solutions Jerome Dwight said in a news release.
Dwight added, "Regardless of dealership size or location, our clients now have another channel to efficiently find the right car or buyer at any time."