Near 50-year mark, VW Waterloo gets new facility showcasing service & parts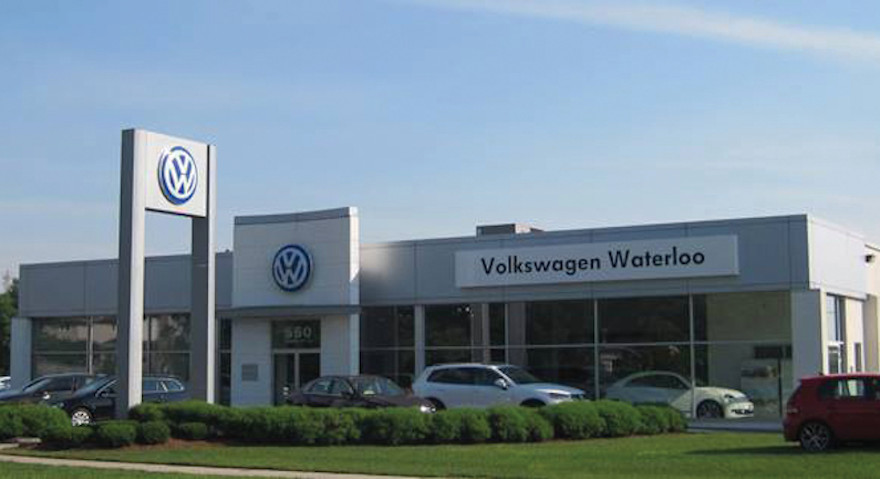 WATERLOO, Ontario -
Auto dealerships are often simply the kind of businesses that throughout history have gotten passed down through generations. And even if they change hands, they often retain their place in the community for decades. In fact, many dealerships and dealer groups just end up growing right along with their communities.
And that's how the story goes for one Waterloo, Ontario dealership, according to Shawn Hagen.
Hagen is the sales manager at VW Waterloo, which has been serving the Waterloo region since 1973, previously under the name Autohaus Waterloo.
When the dealership first opened, it was surrounded by farmland, the sales manager said.
"The community has grown, and we are proud to be a part of it," he added.
Growth, and a new face
Speaking of growth, the VW store is building a brand-new facility, after doing business in the same location for almost 50 years.
Hagen said the team is very proud to be building a new 30,000-square-foot facility to "continue to serve our clients."
The new store will be designed with VW's new "White Frame Facility" concept, which features an open, airy showroom that can house up to 10 display vehicles, multiple client lounge areas and two client delivery bays. The 13 service bays all have built-in tool benches, and service center features include a service drive with a drive-through alignment quick check machine, an automated car wash and three detailing bays.
But it's not just about making customers' lives easier and improving their experiences.
"In addition to offering our clients a relaxing experience, we wanted to ensure our team has amenities to improve their day," said Hagen. "A sizable amount of square footage on the second floor was designed specifically for the team, including expansive locker rooms with showers, and a large airy kitchen/lunch room overlooking the showroom."
He says the most unique feature includes a second-floor outdoor patio for staff to enjoy.
So, why the redesign? Hagen explained that although the Waterloo region has supported the dealership for a long time, "the original footprint of the service department was designed for the length and width of the original (Volkswagen) Beetle."
A shop expansion and multiple showroom refreshes since have helped, but it was time for a bigger change.
"The main deciding factor to build the new store was to ensure our valued clients can receive the level of service they know and love from Volkswagen Waterloo," said Hagen.
Hagen said with the strength of the VW brand, and a wealth of service customers, it had become common for clients to have to wait a week or more for a service appointment at VW Waterloo.
"We were bursting at the seams, and our clients deserved better," said Hagen. "With this brand-new facility, we're excited to invite them into the service drive with appointment times that are convenient for them."
Although a building itself can't improve business, it will "give our team the tools they need to continue to show clients why Volkswagen Waterloo is positively different," he said.
Service & parts: 'Cornerstone to our success'
And that might be particularly important for the service and parts departments at VW Waterloo. Hagen said these two departments are "the cornerstone to our success.
"To our retail clients, our service and parts department works hand in hand to provide a consistent, enjoyable and reputable repair facility for all VW owners," said Hagen. "Our service and parts team are constantly striving to improve the customer experience."
This strategy includes efforts like a timely shuttle service, complimentary car wash and courtesy vehicles for the dealership's clients.
The parts department at VW Waterloo has also developed relationships with body shops and repair shops, which shows the breadth of revenue opportunities for these departments in auto dealerships.
Service and parts, of course, are also integral to pre-owned operations.
"Their commitment to a timely turnaround and dedication to ensuring vehicles are reconditioned to a high standard allows our team to present pre-owned vehicles with confidence and for clients to enjoy worry-free ownership," Hagen shared.
CPO: The focus of 'pre-owned energy'
Hagen said the certified pre-owned business is where the dealership focuses the majority of its "pre-owned energy," going on to praise VW's CPO program as an "incredible program to leverage in the market."
Key to CPO programs are the transparency they provide customers, through a thorough inspection process and solid warranty programs — creating confidence that a vehicle is not only a good deal, but also a wise one.
"We share all the reconditioning work, along with an in-depth vehicle history to ensure our clients leave with full confidence in the vehicle," said Hagen. "In the CPO world it requires a full commitment by the dealership to ensure we are offering our clients the best possible previously loved VWs."
Hagen said for VW, the CPO program offers an alternative to new-vehicle sales for the dealership's clients, and that he is seeing a large demand for quality pre-owned vehicles in the Waterloo region.
"I believe the transparency in the pre-owned market is building the trust we need with our clients to allow them to be confident in a pre-owned vehicle," he added.
Hagen said the compact SUV and small passenger car segment are best sellers on the used side of the house at VW Waterloo.
"We hand select all of our pre-owned vehicles, both VW branded and off-make, to ensure we have a competitive advantage over other comparable vehicles on the market," he said. "The market is shifting into a larger demand for fun practical vehicles, and the compact CUV market hits the nail on the head."
The changing pre-owned customer
There's no denying it. The way we research pre-owned cars and new cars is changing. For example, a shopper might find six compact CUV models at one dealership, but perhaps that dealership only has three stars on Google reviews, so he or she moves on to another business. Or there is a cheaper one down the road? All of that is now available at consumers' fingertips or at the click of a button.
Client expectations continue to grow, and it's essential to have the proper tools, facilities and engaged staffing to offer a consistent, positive experience, Hagen pointed out.
Part of this experience for modern dealerships is creating a consistent sales experience with in-store operations and online presence, often a daunting task.
"We as a dealer have worked tirelessly to connect the online world to our physical location," Hagen said.
Interestingly, even as using third-party call centers or message systems to field leads continues to grow in popularity — all of VW Waterloo's online communication is managed by staff at the dealership. The store fields communications from many different channels and utilizes a unified approach "to ensure a consistent, real approach to digital communication.
"This communication has an incredible impact when it comes time for the client to come into the store. Having a name and often a familiar face to look/ask for when they come to the store creates a level of consistency and comfort that can be matched with lead services," he explained.
Although dealerships can't afford to ignore clients' desires for instant information and gratification, "we need to work with it to create the perfect experience," Hagen said.
The store has also taken steps to ensure its online vehicle inventory is showcased in a way that is consistent to what its clients will see in store and uses many different outlets to accurately depict the quality and condition of its pre-owned vehicles.
One of the channels VW Waterloo uses most to reach its customers is video.
The dealership offers clients both informative walkaround videos and personalized videos and has over 1,300 active videos on its YouTube channel, with over 1.4 million total views.
The dealership's photo policy shows a similar level of detail.
"Taken right here on the lot, we have found the consistency, accuracy, and transparency in our photos allow our clients to educate themselves on each model prior to viewing the vehicle in person," Hagen said.