New Company Aims to Change the Dealership Review 'Eco-System'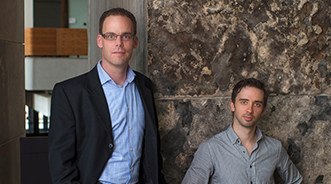 TORONTO -
A bad customer review can spark fear in the hearts of most any business owner. And dealers have their own set of issues to navigate when trying to secure reviews from happy customers. Mobials Inc., a new mobile software development company which launched this week, aims to turn the tides and help put the control back in the dealer's hands.
James Hayes and Brad Hanebury, co-founders at Mobials, believe in thinking differently about the problems dealers face with reputation management. They say that the existing online review systems that dealers are forced to work with add little value and in some cases are quite dealer hostile.
They explained to Auto Remarketing Canada this summer that their new offering is designed to "create a innovative reputation management and review eco-system" — one that is inclusive of the consumer, the dealership and the dealership's publishing partners.
Mobials, which stands for "mobile testimonials," is a response to what Hayes sees as a series of problems with the current review systems. Hayes contends that traditional review systems are broken and failing dealerships in two fundamental ways.
The first issue that pushed Mobials development is the obstacles dealers face from online single-source review sites, Hayes explained.
"Syndication is key. These (traditional) review sites hold dealers hostage to drive users and reviews to them individually by remarketing dealer brands without the dealerships permission. And because they don't share reviews, they cause confusion in the market. One of the biggest problems in reputation management for dealers is single-source review services," Hayes said.
Also, Hayes contends that dealers should be focusing dollars spent on pushing reviews on auto portal sites.
"We believe auto portal sites are where they should be focusing their review services; any site that acts as a car service or purchase influencer. The average car shopper is spending 10 plus hours researching their purchase before the even step foot on the dealer's lot," he said.
Hayes asks: "Where does your car shopper research their purchase? Where do you advertise your inventory?"
With customers spending more and more time searching through classified sites, Hayes contends that they need to see something that sets your dealership apart, such as a review, while in the process of comparing similar vehicles.
The second issue that pushed Mobials development was the low review counts from consumers on traditional online review sites; a problem Hayes says can be remedied by introducing a mobile tool in lieu of more traditional review capturing processes.
"The traditional tools that the dealerships are using are dated; they aren't easy for both the dealership and the consumer to use, and we believe that you need a mobile tool in order to capture more reviews from a broad spectrum of your customer base," Hayes continued.
Hayes explained Mobials is designed to increase review feedback by making it easy for the dealership to ask for a review and for a consumer to complete and share a review.
"When you go into a dealership, there is a disconnect between asking for a review and asking for word of mouth. If you have a positive brand experience, you ask customers to tell friends and family. But what they don't have is a tool to make it simple and easy to share the experience they had, whether it be a picture; a picture and a testimonial; or a picture, testimonial and a call to action that can be posted on their social networks," Hayes said.
In an effort to address these issues, Mobials was created.
How it Works
Very early on in the Mobials development the partners worked with dealers to find out what they were struggling with. What we heard was that they wanted more than just a reputation management tool. They wanted a tool that could deliver real ROI in their sales and service departments, a mobile tool that could drive retention and referrals through solid reputation management.
The team at Mobials has created a easy to use mobile application for capturing reviews that is to be used by sales and service members and is a new communication tool for the dealership.
The application is currently available for Apple products and is soon to be available for Android as well.
In conjunction with the mobile application, the company has developed a web-based software platform for reputation monitoring and response, and review syndication to automotive publishers looking to enhance their site or app by adding dealer reviews with our freely available API access.
Currently, the reviewer has the option of sharing their experience to Facebook. Twitter and Google+ will be added to the application in the coming months.
Hayes explained the Mobials review process is a way to grow referrals and also a means to "create a retention method between sales and service."
After the review process is done, the reviews are syndicated across all of Mobials publishing partners, which today include: Canadian Black Book, Auto123, Carsgone, AUTOandTRUCK.ca, Leasebusters and CarCost, with other publishing partners soon to be added.
Hayes added that in addition to dealer-initiated reviews; consumers are also able to complete reviews of dealerships independently on the company's partner sites, and these reviews are shared transparently across the entire system.
"If we can get dealers to work together with their publishing partners and drive a new ecosystem of review and reputation management, then I believe we can change the existing dealer hostile review process — but only if we work together as an industry," he concluded.
For more information see the Mobials website here.