New event on women, diversity in auto headed to Toronto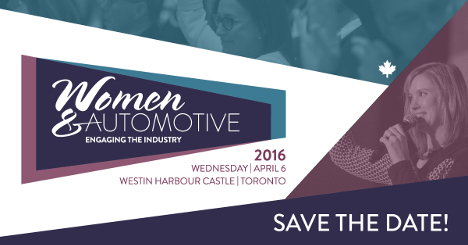 CARY, N.C. -
A brand new conference focusing on diversity in the Canadian automotive industry is headed to Toronto this spring.
Cherokee Media Group — who also hosts the Auto Remarketing Canada Conference — will be launching a new event, titled, "Women & Automotive."
The day-long conference, designed for men and women and scheduled for April 6 at the Westin Harbour Castle in Toronto, aims to engage the industry in discussion surrounding challenges and opportunities impacting women in the automotive industry today, as well as the overall growing diversity in the Canadian automotive workforce.
"We are very excited to bring what is bound to be another industry-leading event to Canada, especially one that will be focusing on diversity in the ever-growing auto industry," said Bill Zadeits, conference chair and president of Cherokee Media Group. "We hope you will join us in our mission to highlight and discuss the changing landscape in the auto biz as well as promote diversity and grow opportunities in this evolving industry for all."
From recruiting and retaining women employees in the dealership, to expanding opportunities within the manufacturer, finance, banking, insurance and supplier segments of the Canadian automotive industry—the day-long event covers it all.
The number of women in the automotive industry is growing at a rapid pace, and this calls for more leadership, education, networking and growth opportunities for these professionals. The upcoming conference will feature insight from industry-leading experts on the topics of recruiting and retaining women in the dealership, diversity in the auto industry, the power of networking and more.
Speaking of networking, the event will feature a Mentorship Program that will work to connect seasoned professionals with those just starting out in the automotive business.
Cherokee Media Group will be enlisting the help of an expert Board of Advisers to help make this unique event the best that it can be.
The Women and Automotive 2016 Board of Advisers is as follows:
Cheryl Munce, Auto Industry Consultant, MyDealerOnline – Chair of the Board of Advisors
Jean Boutzis, Director of Sales and Business Development, Performance Publications Media Group – Board Member
Christie Groom, Director, Business Development, Sym-Tech Financial Services – Board Member
Wendy Ladd, Account Manager, Pfaff Leasing – Board Member
Kathy Ward, Executive Chairman, Canadian Black Book – Board Member
Registration for Woman & Automotive will begin in early January. Early-bird registration is $295 until March 4. At that time, the price will go up to $395. But, for those attending the Auto Remarketing Canada Conference, as well, Cherokee Media Group has a special deal for you.
When registering for the Auto Remarketing Canada Conference, attendees will have the chance to register for the Women & Automotive event for the discounted price of $195.
We are also currently holding a Call for Speakers for the upcoming event. More information can be found here.
For those interested in sponsorship or advertising opportunities for Women & Automotive, please reach out to conference chair Bill Zadeits at bzadeits@cherokeemediagroup.com.
Stay tuned to womenandautomotive.com for your latest Woman & Automotive event news.