New eBlock COO boosts post-ops and prepares for redesign launch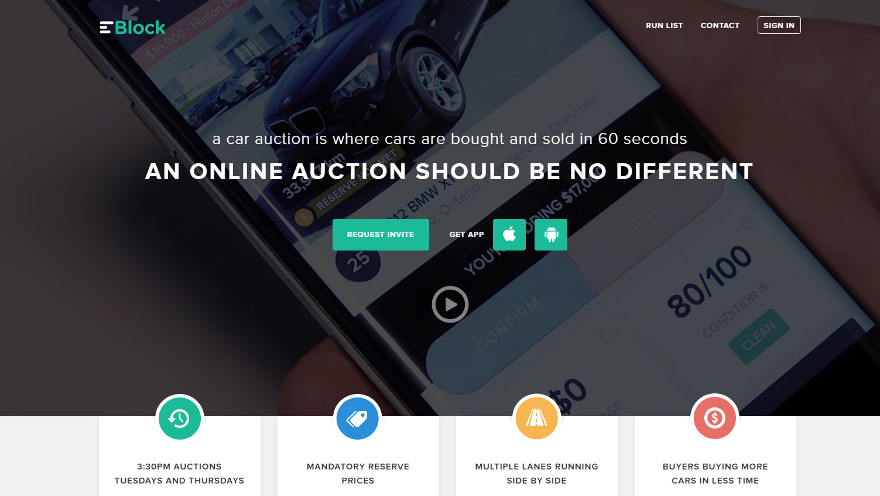 TORONTO -
Jason McClenahan, chief operating officer at eBlock, has been in the auction industry his entire career. In fact, it's the only job he's ever had, the new COO of this growing digital auto auction company told Auto Remarketing Canada.
McClenahan began his career with ADESA Vancouver when he was just 17. After spending 12 years with the auction, he moved on to ADESA Ottawa in 2012.
"I was an operations manager, sales manager, assistant GM and GM, so I have kind of held every management title there is. I have also worked from the ground up, and that's one way I like to learn," he said. "I have done all the jobs in the trenches, and that's why I think I've had so much success with all of my employees."
In early 2016, McClenahan left the physical auction lanes for the digitized world, joining TradeRev as regional director of sales in the northeast U.S.
But for someone with "brick and mortar in the blood," he said eBlock ended up being a better fit. He joined the young company this past March as COO.
But the decision to leave physical auctions wasn't an easy one for McClenahan.
"They are really in my blood. I'm also a trained auctioneer. So, it's one of my true passions that I miss the most about brick-and-mortar, but I quickly realized the digital shift was coming. I really wanted to be part of the change that I knew was going to shape this industry," he shared.
As for why he chose eBlock, its closeness to the air of urgency at a physical auction had something to do with it. As an online auction website with mobile bidding capability, vehicles are bought and sold in 60 seconds, with set starting prices and mandatory reserve pricing.
"Buyers know if they own a product within that 60 seconds, just like being on the auction block," McClenahan added.
The first order of business
Before the new COO got started on eBlock's planned platform redesign, the exec stopped to organize a post-operations team, which will provide a variety of transactional services for buyers and sellers.
The post-operations team was organized in an effort to provide support for customers and staff and ensure the product was scalable.
Although he admitted this was a big undertaking, it has helped the company sustain what McClenahan described as "major growth" this year.
"I quickly realized that we were missing a couple of things in our post-auction operations team, so that is why I built that team first," he said. "We are really trying to give our customers the 'brick-and-mortar auction experience' online and on a mobile device."
A new platform for eBlock
McClenahan's next item of business? A new platform for eBlock. The company plans to reveal its latest platform redesign later this year. The platform, which is being completely rebuilt, will have three different auction channels designed to cater to a variety of different auction customers:
1. Live Appraisal: This auction is designed at the time of the retail trade-in process to create an auction in the showroom to help appraise retail public fresh trades at franchise dealers.
2. Live Auction: These are daily auctions at set times for grounded wholesale inventory. All vehicles have reserve prices, and vehicles are sold online in an urgent auction atmosphere. Vehicles are sold in 60 seconds.
3. 24-hour Auction: All vehicles posted will go live for 24 hours and end at the same time for buyer convenience. This will cater to an entirely different audience that like to either sell their vehicles over a longer period of time or take their time shopping as a buyer.
"Other platforms are doing this all in one space. We are separating the auction channels and organizing the information for a better buying experience," said McClenahan.
The Live Appraisal offering, which will be a retail-facing product, will feature fresh retail trades from customers or in the showroom.
"I believe this will be the first true live appraisal auction in the industry to organize vehicles seamlessly," the eBlock COO said. "In the past, other platforms have been very chaotic, where vehicles come and go all hours of the day, every minute."
And eBlock won't be rerunning units in its Live Auction channel.
"We are going to have fresh units only," said McClenahan. "We are no longer going to have reruns running through the auction, so buyers are really going to gravitate to that."
The new platform will also provide more transactional services for buyers and sellers, stemming from eBlock's new post-operations auction team.
"We will be facilitating a lot more steps within the process," said McClenahan.
Future growth for eBlock
After joining the young company in March, McClenahan shared with Auto Remarketing Canada he had to rip up forecast after forecast after the company tripled its growth in 90 days, exceeding his expectations multiple times.
When asked about this high rate of growth, he said, "It was just a matter of putting some support behind our sales people and making things easier on our customers. The business was already there; we just needed to organize it."
And as of early August, eBlock's growth was up 150 percent year-over-year. The company ultimately plans to expand nationwide and into the U.S., as well.
"We already have partner customers in Western Canada and the United States that are awaiting our arrival," said McClenahan. "Right now we aren't launching any new markets until we have our new platform. I really want to make sure the user experience is the best it can possibly be for brand new customers."
eBlock is "handpicking" its partners, and is currently hiring in Sudbury, Quebec City and Halifax, which are the next three cities eBlock will be moving into in Canada.
Western Canada is next on the list. And McClenahan expects to double business once again when the new platform hits the Web later this year. eBlock will also be making another major announcement in the latter half of 2017. The company will be adding a major investor as chairman of the board, although the individual had not yet been announced at the time of the interview.
"That is going to be a very exciting time for us, and we will be able to fund our growth and expand North America wide," the COO said.
What's pushing dealers toward online sales?
Although McClenahan has found himself at the helm of an online auction company, he doesn't believe brick-and-mortar auctions are going anywhere.
"We believe brick and mortar has to evolve and be complemented with the best technology, and we believe we have the technology that is going to power this change in the industry and complement brick and mortar auctions, where vehicles will still be processed," he explained.
Although physical auctions have their place, many dealers are turning to the Web for their inventory needs. One of those factors pushing the movement is safety, according to McClenahan.
"There have been a lot of accidents recently at brick-and-mortar auctions. The scariest things for me running a brick-and-mortar auction myself was always the chance of an issue happening under my watch," McClenahan said.
Another factor for dealers is convenience and time. For many, every week is a battle against time. And with online auction technology, dealers can source inventory at their fingertips while still running their day-to-day business. Shipping to physical auctions can also be very expensive, especially for dealers in remote areas.
"Sometimes we are saving dealers an average of $500 to $800 a vehicle to sell it right from their dealership, and then it just goes to the end user, instead of to the auction," McClenahan said. Lastly, he explained the shift toward retail- and customer-facing products online will speed the shift toward the Web.
"I believe the shift to digital auctions is going to face consumers in the very near future," McClenahan said