New Mitsubishi CPO program to serve as 'tool' for dealers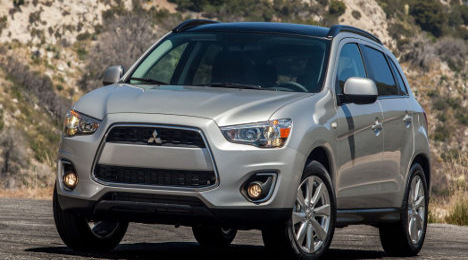 MISSISSAUGA, Ontario -
A variety of factors made this December the ideal time to launch a certified pre-owned program for Canada's Mitsubishi Motors.
That's according to the new program's management. Charles Plewes, lease manager at Mitsubishi Motor Sales of Canada Inc., told Auto Remarketing Canada, "Our dealers are good used-car dealers, but all dealers can use additional tools."
And of course, a strong certified program acts as just that, helping dealers market pre-owned vehicles and purchase more quality used vehicles, as well.
Another factor that when into the program's launch is the fact the automaker jumped back into the leasing market just two-and-a-half years ago, and now many vehicles stemming from that first round of leases are coming back into the remarketing cycle.
"We wanted to provide the dealers with the tools necessary to purchase the off-lease vehicles and help remarket those vehicles," said Plewes, explaining the reasoning behind the December launch.
Though the auction will serve as a sourcing pool for CPO vehicles, as well, this leasing program will prove beneficial for Mitsubishi dealers looking for quality used vehicles to certify.
"Our lease program has been running for over two years, and we are starting to have some returns now, some of them will be off-lease vehicles," said Plewes. "Also, our program, unlike some other programs, is available to ex-daily rental vehicles, so Enterprise or other brands of ex-daily rental vehicles can qualify as long as they pass our inspection and reconditioning process. All of those sources will be available to our dealers."
The Canadian branch of the Mitsubishi brand is one of the youngest and smallest of the mainstream car companies in Canada, having been first established in October 2002. And though it is joining the CPO game a little later than most, the market is primed for CPO sales, as used auction supply is expected to begin expanding in 2016.
The automaker has a partnership with F&I company LGM Financial Services Inc., who will be providing full administrative and sales support for the newly launched CPO program.
When asked why the automaker chose LGM for the job, Plewes said it came down to resources.
"We are a small company, and we have some limited resources, but we run ourselves very efficiently. And we needed a partner that could provide field support as well as extended warranty products that could support our CPO program," Plewes said. "LGM was a company that was willing to customize a program to our needs and our dealers' needs, and they provide the technical background as well as some field support for the program and extended warranty products, as well."
A rush to sign up
The program launched on Dec. 1, and when Auto Remarketing Canada spoke with the CPO program's management early that month, 59 of the automaker's total dealer count of 91 in the country had already signed up to participate in the voluntary program.
"We conducted webinars across the country for all our dealers, and we had great participation, and we trained almost all the dealers through these webinars … It is a voluntary program for them, but they're coming onto the program quite strong," Plewes said.
The automaker is also planning some classroom training for dealers in the spring, and in-store training from field staff is also available to dealers.
"It's early days. We have only been running for 15 days now (at the time of the interview). We already have certified vehicles; we already have some vehicles that have been sold certified, as well. Fifty nine dealers is two-thirds of our dealer body signed up, which is quite strong for the first 15 days.
"Our goal, obviously, is to have 100 percent of our dealers signed up, and we think that over the next several months, we will get very close to that goal and start building volume in the CPO marketplace," Plewes shared.
Attracting CPO shoppers
The goal of the program is to bring a "new level of confidence" to Mitsubishi car shoppers, said Plewes.
"Mitsubishi has the strongest warranty in the marketplace, and that's because our vehicles really are built better and backed better, and that theme runs very well with our used vehicles," said Plewes. "We wanted our CPO program to build on that theme and have our customers be really confident that the used vehicle they are buying as a certified pre-owned Mitsubishi is the best pre-owned Mitsubishi available."
As for what will be the most attractive elements of the CPO program to customers, Plewes said the 12-month key fob replacements as well as a complimentary SiriusXM subscription will be draws, but the exchange program is key to attracting customers.
"Customers are also very confident because there is a 10-day, 1,500-kilometer exchange program, so that provides a real safety net for the customer when they are purchasing a pre-owned vehicle," Plewes said.
CPO customers are many times new to a brand and new to the dealership when they come in to check out certified vehicles, and many of these customers become loyal once they have a great CPO experience.
But there's one key to securing a great CPO experience: treating these customers like new-car buyers.
"They are buying CPO because they want a new vehicle, and they want a new-car purchase experience in a vehicle that is less expensive. So this is a way our dealers can provide a like-new experience to get into the Mitsubishi brand, have all the benefits of the built-better backed-better vehicle with the better warranty," said Plewes.
"So in our training, we did touch on the fact that dealers should treat CPO customers exactly the same way they treat a new-car customer — the same level of service, and respect when they are delivering the vehicle and selling the vehicle to a CPO customer," he said.
Editor's Note: Stay tuned to the January/February issue of Auto Remarketing Canada Magazine, set to release next week, in which we delve further into the growing biz of CPO.