New Porsche, Mercedes-Benz facilities in Canada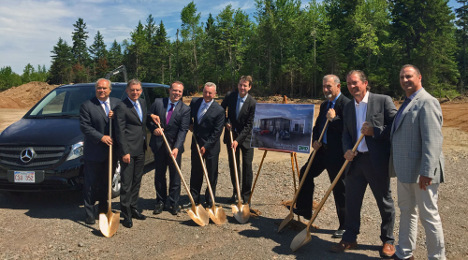 CARY, N.C. -
Porsche Cars Canada announced the opening of the country's first Certified Porsche Classic Partner: Porsche Centre Victoria.
It will be the fourth of its kind in North America and 39th worldwide, providing owners of Porsche models older than 10 years genuine parts, service and classic car sales.
"Porsche Centre Victoria was a natural fit to become a Porsche Classic Partner to showcase the range of service that will be provided to Porsche Classic owners," Alexander Pollich, PCL president and chief executive officer, said in a news release. "Over 70 percent of all Porsches sold globally are still on the road today, and with a responsibility to help maintain these classic models and owner enthusiasm, Porsche established Porsche Classic in 2005. We are certainly thrilled to mark this momentous occasion and have the first Porsche Classic Corner in Canada open."
Supplying Canadian Porsche owners with 52,000 Classic parts, growing to the list of parts already available, will ensure the best care possible for their vehicles. In the showroom, the dedicated Porsche Classic Corner is clearly identifiable as a visual highlight and a Classic brand experience.
Meanwhile, PCL, along with the Wyant Group, officially broke ground on Porsche Centre Kelowna. Located at Finns Road and Stremel Road off of Highway 97, Porsche Centre Kelowna is expected to open in early 2017 with a nine-car showroom, new vehicle delivery experience location, and 10-bay workshop.
"Kelowna marks an area of strong potential for the Porsche brand and we are glad that Vaughn Wyant and the Wyant Group are going to be taking care of our loyal, growing customer base in the area," said Pollich. "Kelowna is an exciting opportunity for Porsche Canada and we are positive that it will show strength within our developing network."
Porsche Centre Kelowna will be the eighth Porsche Centre in Western Canada, making the split from Western to Eastern Canada nearly identical.
"Breaking the ground on Porsche Centre Kelowna symbolically represents more than just where the next opportunity for the Wyant Group will be built, but it also marks where we will be committed to fostering new relationships and delivering service beyond expectations to the surrounding community," said Vaughn Wyant, president and CEO of the Wyant Group.
Porsche Centre Kelowna will be the Wyant Group's second location, along with Porsche Centre Saskatchewan.
Porsche Cars Canada is an independent subsidiary of Porsche AG.
Mercedes-Benz Canada expands operations in New Brunswick
Ground has been broken for a Mercedes-Benz retail facility in Dieppe, New Brunswick, that is scheduled to open next spring. The store will serve as a satellite for TriStar Mercedes-Benz in Saint John, New Brunswick, in order to better serve the growing after-sales, parts and accessories needs of customers in the Atlantic provinces.
The 11,425-square-foot facility is being built on a 3.3-acre site at 1200 Aviation Ave., an important regional commercial center close to the Greater Moncton International Airport. The new home of the Mercedes-Benz, AMG and smart brands will feature a 6,000-square-foot service area featuring eight state-of-the-art bays.
The design and layout of the new facility will follow Mercedes-Benz's proprietary "Autohaus" concept, which includes liberal use of glass to maintain transparency and create a bright and airy feeling. It also features black design elements that, coupled with accents of silver, are reminiscent of the three-pointed star.
"I'm delighted that Mercedes-Benz has chosen Dieppe for this key development in their retail network," said Ernest Thibodeau, deputy mayor of Dieppe. "Ours is a region that has seen incredible growth in recent years, rapidly becoming a bustling hub for retail, industry and culture. Mercedes-Benz is a fantastic addition to Dieppe's offerings, and will join other influential brands in this strategically important location. This new development will benefit not only the region, but the Maritimes as a whole."
Ian Brett, dealer principal of TriStar Mercedes-Benz, added: "We are thrilled to be expanding our business in New Brunswick with this affiliated store, and will work tirelessly to ensure that the significant investment announced today will result in an experience that truly embodies the Mercedes-Benz promise to deliver the best or nothing." Brett was joined at the ground-breaking by general manager Andrew Peters.
"TriStar Mercedes-Benz has been a trusted partner of Mercedes-Benz Canada for a long time, and it is our pleasure to support Ian Brett and his team as they grow their business outside of Saint John," said Brian Fulton, president and CEO of Mercedes-Benz Canada. "This new satellite store will provide a convenient point of sales and service, effectively solidifying and developing relationships with new, existing and potential customers in an important — and increasing — market."