NextGear Capital Opens New Mississauga Office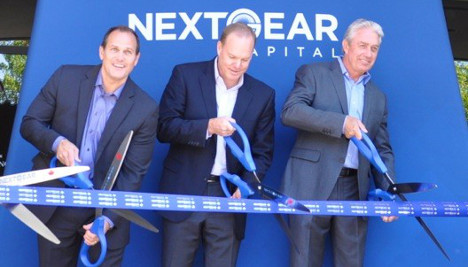 CARMEL, Ind. -
NextGear Capital, which launched in Canada back in 2013, has opened a new office up north.
The company held a ribbon cutting ceremony last week to recognize the opening of its new Mississauga, Ontario office.
The new space is 12,000 square feet, and will be used to house the company's customer service center and provide room for growth as the company works to expand its customer base in Canada.
"We are excited to begin operations in our new space, which was necessary to accommodate our growing business in Canada," said Roy Vandermeer, vice president of Canadian operations at NextGear. "This new office space also represents a significant investment from Cox Automotive to the Canadian automotive remarketing industry."
Along with Vandermeer, Cox Automotive Group VP Patrick Brennan, NextGear president Brian Geitner and NextGear chief strategy officer and general counsel John Wick also attended the event and offered remarks to dealers, industry leaders and auction employees about NextGear's growth in Canada.
The company first entered Canada a little bit over two years ago and was occupying an office in Toronto. And just last month the company made its account management technology available to its Canadian customers, for around the clock access in both English and French.
Auto Remarketing Canada chatted with Vandermeer earlier this year to discuss the company's expansion.
When asked what is top-of-mind for the business in Canada this year, Vandermeer said, "With the launch of our technology offerings in Canada, dealers will have access to our flexible term plans tailored to their individual business needs. Vehicle type and value, average inventory turn time and sales volumes are all factors in developing a successful finance strategy that will help dealers achieve their growth and financial goals.
"This is a fast-paced and time-sensitive business, and our online account management tools are geared to provide valuable real-time information that allows dealers to make informed decisions while on the go. Our goal this year is to introduce our technology offerings to our existing and rapidly growing customer base in Canada, and we fully expect to continue the growth trajectory we experienced in 2014 under the NextGear Capital brand," he continued.
For more from Auto Remarketing Canada's interview with Vandermeer, see the March/April edition of Consignor Corner.