NFTouch kiosks aim to 'take paper out' of dealerships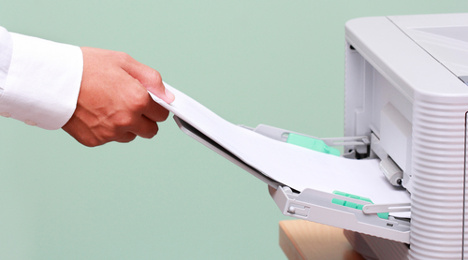 BURLINGTON, Ontario -
F&I documents, vehicle sales agreements, brochures and more, we all know that dealerships are businesses that rely heavily on printed products. That said, NFTouch, a new product from Burlington, Ontario's Future Retail Group (FRG) is looking to "take the paper out of dealerships," creating more leads as well as cost-savings benefits.
The company explained NFTouch is a kiosk product that utilizes near-field communication (NFC) to deliver targeted messages to dealership shoppers, designed to convert leads into sales.
The NFTouch kiosk system has the ability to deliver dealer and brand information, provide model brochures and upload coupon specials, as well as allowing shoppers to book test drives, and service and appraisal appointment from their smartphones of tablets.
What's interesting about this Canadian-made technology is it "works with pull technology rather than push technology," according to George Dion, the chief executive officer and international account director for the Future Retail Group, meaning the customer has to actually touch the device and choose what information they want to receive, rather than having a plethora of files pushed over to them, regardless of their specific needs.
"NFC uses proximity to other mobile devices or tags to transfer information between them," explained Dion, who leads the company that has global rights for the product and technology. "In Europe, it's widely used in retail environments, such as supermarkets that are basically the size of convenience stores, where people go in and touch their phones to tags to purchase milk, for example, and then have it delivered to their homes."
The 'meeting of the minds'
Dion shared he began his journey in automotive booth design in the 1980s when he began to look into alternatives for auto retailers to get their messages out to consumers.
And a year ago, the exec was approached by Volkswagen Canada to study a way for dealerships to deliver content to visitors in an "unobtrusive and cost-effective" way, as well as work toward doing away with printed brochures completely.
The Future Retail Group then engaged Kitchener's WestonExpressions that at the time was launching its new Linkett product, which works to connect to ordinary television sets or digital signs and delivers unique content to passers-by. Dion said this "meeting of the minds" led to the development of the kiosk system, NFTouch.
Product details and dealer offerings
Dion shared one of the key features of NFTouch is information dissemination is based on consumer interest.
"NFTouch works with pull technology rather than push technology," said Dion. "Unlike systems like Apple's iBeacon, the customer actually touches the device to the display and chooses the content he or she wishes to receive, rather than the system pushing out 'spam' to a phone as it gets within that proximity."
Consumers do not need to download an app to receive the content, and the kiosk systems works to send out information in a schedule designed to optimize the messaging at specific times.
The company has made NFTouch available in a variety of dealer packages. FRG shared the base package for the product includes four "wheel" kiosks (digital stands next to a showroom vehicle) and a showroom Master kiosk (which provides discount coupons, showcases campaigns, monthly features and specials). The Digital Wheel Stand allows the sales manager to instantly change vehicle pricing and offers.
The packages are customized in an effort to suit dealer needs, and the kiosks are leased over a set term, with delivery and installation within 60 days of ordering.
And for shoppers that might not have made it to the dealership within store hours; they can receive information, as well. The company also offers an After-Hours kiosk, which sits just inside the dealership window and works through glass.
"What NFTouch does is it increases Dwell Times and diminishes the opportunity to lose a sale when a customer who may be ready to buy ends up walking out of a dealership because the salespeople may be busy or the customer may not even want to deal with a salesperson," said Dion.
As for the immediate return on investment, FRG asserts that dealerships could save hundreds of thousands of dollars on printed material. Dealerships may also find the product improves its ability to track showroom traffic, because the technology can track how many mobile devices come within proximity of the kiosk, as well as how many shoppers engage with it — Dion calls these "lookers" and "tappers", respectively.
This information is uploaded, and digital reports can be generated minute-by-minute in whatever timeframe the dealership wants.
And dealers are already reaping the benefits. The technology was tested at VW Pfaff, Newmarket and is in use at several other dealerships, including Leggat Chevrolet Cadillac Buick GMC in Burlington, Volvo of Oakville and Burlington's Ducati Dealer, Peninsula Imports.
"We had lot of Ducati Demo Ride test drives booked May 22, 23 and 24, 2015 from our NFTouch Window Kiosk," said Tony Foderaro, dealer principal at Peninsula Imports, Burlington. "The ability to instantly change our after-hours messaging gave us the advantage to communicate with our window shoppers, getting them to connect to sales. It was powerful."