Nissan Canada Reaches 100K Annual Sales Goal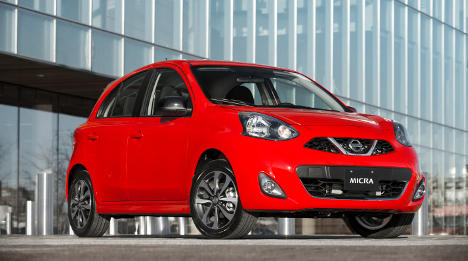 MISSISSAUGA, Ontario -
Nissan Group hit 100,000 new-car sales in Canada in a calendar year as of Nov. 13. This is the first time the company has met this goal since arriving in Canada.
With this milestone comes a 27-percent year-over-year sales spike, which has been achieved in just over 10 months.
The company reports the massive increase in sales has been driven by "Nissan Group's commitment to provide marketing, dealer support and a strong product line-up — all tailored specifically to Canadians."
Christian Meunier, president of Nissan Canada Inc., said, "This sales accomplishment was a culmination of several factors: high-quality products offering exceptional value, a totally reinvigorated dealer network, and individually tailored marketing strategies to meet the diverse needs of Canadians.
"I applaud each and every one of NCI's employees and our dealers. Across Canada, Nissan and Infiniti dealers have delivered on their steadfast commitment to welcoming new customers to the Nissan and Infiniti family, and delivering an outstanding ownership experience to our loyal customers," he continued.
Nissan has been ramping up its presence in the entry-level compact segment as of late, with the launch of the all-new Nissan Micra, and the continued success of the Versa Note.
Together, the two vehicles served to grow Nissan's presence in the sub-compact segment by 76 percent.
"With the new Nissan Micra joining our line-up, Canadians now have several great options to choose from in the hotly-contested entry-level segment — and they are choosing Nissan in record numbers," said Meunier. "As Canadian customers move through their lives and need more room, power or functionality, Nissan has something for everyone."
The Nissan Rogue crossover is another unit that may have pushed the automaker toward its most recent milestone. The crossover is the top-selling product in its portfolio, with 24,359 units sold at the end of October, representing a year-over-year increase of 76 percent.
Nissan LEAF sales are also up by a whopping 122 percent, with 918 sold in Canada.
The automaker's luxury brand, Infiniti, is also growing and has been named "a crucial catalyst" for the company's growth.
Infiniti Canada sales are up 13 percent year-over-year with sales totaling 8,642 at the end of October.
"As we continue to see strong demand for the complete range of our products, we also look forward to welcoming all-new models to our portfolio next year including the Murano crossover, the Maxima sport sedan, and the Nissan Titan truck," Meunier said. "This is an exciting era of change and evolution for Nissan in Canada, and I am proud to continue to lead this team into our next chapter of success."