Nissan offers pre-owned LEAFs through Quebec EV incentive program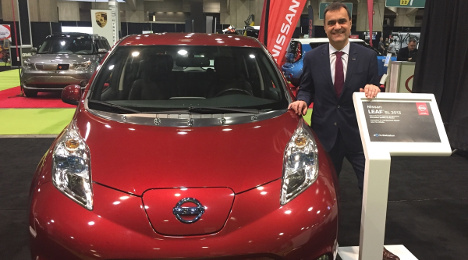 MONTREAL and MISSISSAUGA, Ontario -
Nissan recently announced that as part of Quebec's Drive Electric program, it will now offer select pre-owned Nissan LEAF vehicles for purchase or lease in the province, complete with a $4,000 provincial incentive.
Canadians can purchase a previously owned fully-electric vehicle and also take advantage of a provincial incentive for the first time, according to Nissan. The automaker said this new program signals "a giant leap forward in electric vehicle accessibility."
"The Nissan LEAF Qualified Pre-Owned Program is another demonstration of Nissan's pledge to create intelligent mobility solutions, by broadening the accessibility and practicality of electric vehicles," Nissan Canada president Joni Paiva said in a new release. "The Nissan LEAF Qualified Pre-Owned Program, matched with existing Nissan efforts to develop provincial infrastructure, will be instrumental in growing interest and acceptance toward the broad benefits of zero emission mobility. We look forward to continued growth of the EV market in Quebec."
Nissan said to qualify for the program, the pre-owned LEAFs must be both registered outside of Quebec, and either from the 2013 or 2014 model year.
Vehicles coming from the U.S. will be modified to meet Canadian regulations. Changes include an added OEM harness for the daytime running lights, and a conversion of units to metric.
Certified Nissan LEAF dealers will also be swapping the 2.5L windshield washer fluid tank on the U.S.-sourced LEAFs for a 4.5L tank, according to Nissan.
Additionally, Nissan Canada Finance will offer qualifying customers a 3.99 percent lease rate on 36 months for the LEAF SV and LEAF SL, as well as a special loan program starting as low as 1.99 percent for both the SV and SL trims on 48- and 60-month terms.
"The Nissan LEAF Qualified Pre-Owned Program contributes to the Quebec government's objective of increasing the number of electric and plug-in hybrid vehicles in the province to 100,000 units by 2020," Nissan added.
Quebec recently established a pilot project promoting the purchase of used-cars; a total of 1,000 rebates will be granted under the program until March 31, 2018, according to the government website. Click here for more information.
Note: Corrected to clarify headline.