Online Auction for Repossessed Vehicles Hits the Canadian Market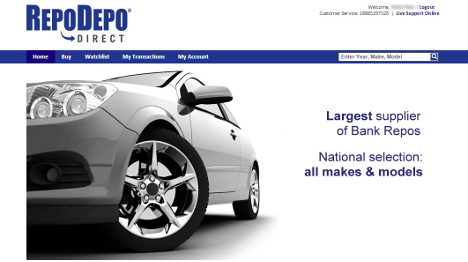 TORONTO -
RepoDepo, which for 25 years has been one of the largest suppliers of repossessed vehicles across Canada, has launched RepoDepoDirect.ca.
RepoDepoDirect.ca, a national live online auction exclusively featuring quality repossessed vehicles, offers dealership used-car buyers an advanced view of RepoDepo's full inventory, with the opportunity to purchase any vehicle displayed online ahead of availability through the company's partner ADESA Canada's physical auction lanes.
Diane Raso, senior manager, national sales and remarketing for RepoDepo, told Auto Remarketing Canada the new tool — that first launched Feb. 17 — was the result of a two-fold need from buyers and clients.
"From the client perspective, they were looking for us to be able to sell the vehicles faster, and of course, at a higher dollar value," said Raso. "From a dealer's perspective, they were always looking to get to the cars faster."
When the company looked at its buyers' needs as well as its clients' needs and how to marry the two, "RepoDepoDirect.ca, was the approach we came up with," Raso said.
"The site allows us to host online sales daily, featuring new inventory as it enters the market," she said. "In designing the new tool, we took a look at our demographic, with a large buyer base, and worked to leverage that and give back to the loyal supporters of the RepoDepo brand."
Raso said the company has a particularly loyal following. The RepoDepo concept was initially launched in 1978, and went into rebranding in the 1990s.
"This is when the RepoDepo became the RepoDepo as we know it today," said Raso. "It is a brand that has been around for a very long time, and this shows in how loyal our buyers are. We are primarily in the wholesale market today. We do have public auctions across the country also, though. Our main demographic is the used-car dealer."
That said, Raso highlighted the site "has something for everyone."
Products range from older makes and models to new, late-model vehicles with less than 1,500 kilometers on the odometers — prime pickings for OEM certified pre-owned programs.
"You are looking at pretty much off-the-lot product, from the economical brands to the luxury Rolls Royce we sold last year. We have a wide variety that meets pretty much every consumer we could look at when it comes to the dealer base we have," said Raso. "We have something for absolutely everyone, from domestic to import, from economic to luxury brands. We have a little bit of everything. Products that would suit independent used-car lots, as well as franchised dealership's used-car programs."
And with used supply remaining tight, a program such as this could serve as an alternative sourcing avenue for dealers.
"We have such a mixed bag of vehicles, and as consumers come through dealership doors, dealers are getting online and looking for product that meets their needs," said Raso. "We update inventory on a daily basis."
Product on the site can range from 30 to 40 vehicles up to 100 on a daily basis. Raso pointed out the numbers fluctuate as the vehicles become legal for sale.
Vehicles on RepoDepoDirect.ca are introduced on the online site before they actually make it to the physical auction lanes, which gives site members first access at new inventory.
RepoDepoDirect.ca is run through a partnership with ADESA Canada, so all of the auction policies that "dealer are used to apply on our site," Raso pointed out.
"Arbitration rules are closely covered. We are very transparent. We pride ourselves on being as transparent as possible with the information that we have. We disclose absolutely everything we know about the vehicles," she said. "Part of our loyalty to our buyers is making sure we are providing them with as much accurate information as we possibly can."
As for how to register for the site, RepoDepoDirect.ca is once again taking its buyer base into account.
Loyal brand supporters were grandfathered in, and Raso said as dealers become stronger participants in the RepoDepo brand, they will then gain access to the new website.
"Dealers need to be a supporter of our in-lane purchasing to utilize this tool," Raso added.
Since the site's launch on Feb. 17, the new tool has been well received.
"We have had tremendous success over the last couple of weeks. Our conversion rates continue to surpass our expectations, and the buyer activity has been extraordinary. Though, I wouldn't expect anything less from our buyers," said Raso. "We've got a very strong following of strong RepoDepo brand supporters. The loyalty has come through in ways that has even exceeded my expectations.
"We are converting at a high level at this point. We've got some great product online, and the dealers are loving it from what we are seeing today," she concluded.