OpenRoad launches philanthropic arm to support local communities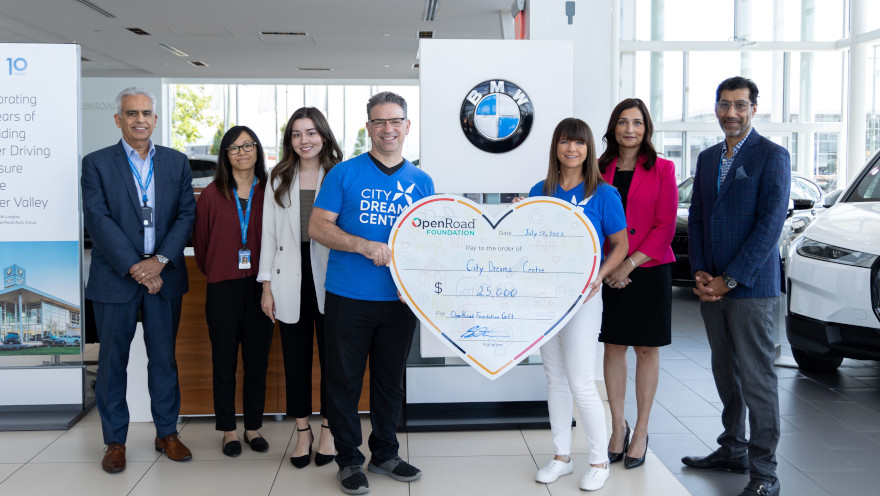 OpenRoad Auto Group has launched a philanthropic non-profit organization, OpenRoad Foundation, which has been a long-time dream of CEO Christian Chia, who is also the OpenRoad Foundation's founding board of director.
The foundation is designed to support the development of "robust and resilient" communities in the areas the dealer group serves.
So far, the OpenRoad Foundation has already granted $100,000 in total.
"By supporting the growth of strong, resilient communities, we as a group, want to fuel these possibilities. Thus, we've established a non-profit giving arm with values and pillars centered around giving back," Shea Studler, OpenRoad Foundation manager, told Auto Remarketing Canada via emailed comments. "OpenRoad Foundation gives us this autonomy, and we are thrilled to already be getting started."
Upon launch, the foundation will be focusing on three elements of a healthy location: environment, community and education.
"The OpenRoad Foundation has been a dream of mine for a while, and I'm thankful to our dedicated and talented team for helping turn this vital project into a reality," Chia said in the news release announcing the foundation. "We want to give back to the communities that have helped us grow over the years by building long-lasting changes, and in turn, benefit our neighborhoods for future generations to come."
Taking a look at the environment, OpenRoad will first be focused on initiatives that support British Columbia's ecosystems. On the community side, Chia will work to ensure people in the communities the dealer group sells in are empowered and given the opportunity to grow themselves and the community with creative solutions.
Lastly, the OpenRoad Foundation will support opportunities for academic success and leadership growth by supporting learning initiatives and scholarships.
OpenRoad Foundation grants have so far have gone to four local non-profits:
Vancouver Food Runners, which address food insecurity and the impact of wasted food on the environment in Metro Vancouver.
Volunteer Cancer Drivers Society, which is focused on providing free, safe, reliable, compassionate transportation and peace of mind for Greater Vancouver and the Fraser Valley cancer patients without the means to pay for care.
City Dream Centre's Summer Food Hampers Program, a feeding initiative that will support approximately 250 families through the summer months while in-school feeding programs are unavailable.
Urban Bounty by Richmond Food Security Society, which provides stewardship of Richmond's local food system.
The four non-profits were selected based on their purpose and values that match closely with our core pillars of environment, community, and education.
The selected non-profits were vetted through the company's dedicated OpenRoad Foundation manager, Internal Advisory Committee and Board, and their application reviewed to ensure they met the dealer group's criteria, Studler said.
"More than 1,700 OpenRoad Auto Group associates spoke with us about what matters most to them and the communities we serve, providing the basis of our giving focus strategy," said Studler. "It has been a great collaborative approach, and these are well-deserving organizations affecting change in our community."
OpenRoad Foundation's inaugural team includes Studler as well as board members and a full advisory committee. OpenRoad Foundation will select additional charity partners for grants in the fall.
"As an organization, we strongly believe it is our social responsibility to support and enhance community prosperity and to create sustainable changes that will be valuable to our neighborhoods," said Studler.  "We are intentional about giving back to the communities that have helped OpenRoad Auto Group grow over the years."