OpenRoad opens new Hyundai store in Richmond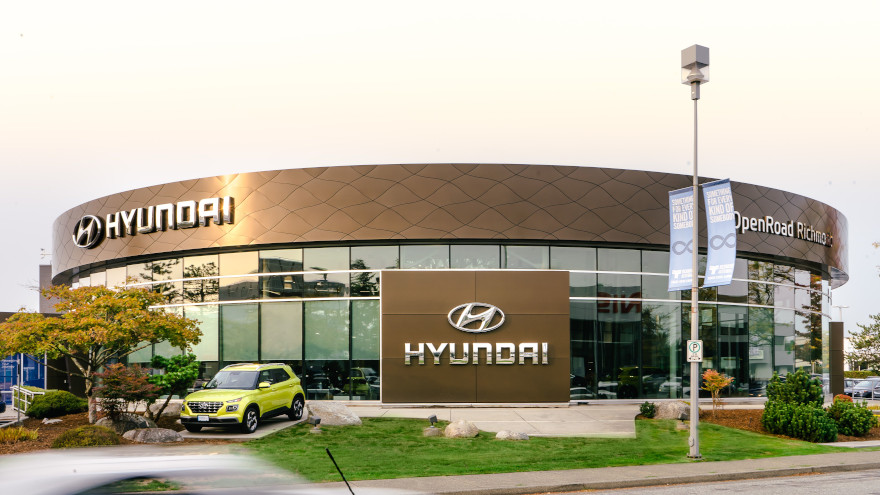 RICHMOND, British Columbia -
OpenRoad Auto Group said last week it has opened what the group says is the largest new Hyundai dealership in Western Canada.
OpenRoad Hyundai Richmond is a 33,000-square-foot dealership located at the Richmond Auto Mall and it replaces the group's former Hyundai store.
The dealership includes an 11-vehicle showroom with modern design, floor-to-ceiling glass, digital kiosks and more. The store's service area includes 16 service bays, four service drive-throughs, a detail wash bay, an automated car wash and customer lounge.
"With the opening of our incredible new facility, we're launching an exciting new chapter for our team and our loyal Hyundai customers," OpenRoad chief executive Christian Chia said in a news release.
"This new building will allow us to elevate our customers' dealership experience while providing the space to keep up with the demand for Hyundai's award-winning lineup of vehicles," Chia said.
Michael Thurston, zone manager at Hyundai Auto Canada Corp., said in the release, "The new Hyundai Richmond dealership is an important new landmark facility for Hyundai Auto Canada and we're thrilled to expand our longstanding partnership with OpenRoad Auto Group with this prominent new facility in Richmond."