OpenRoad ventures into US with luxury store acquisition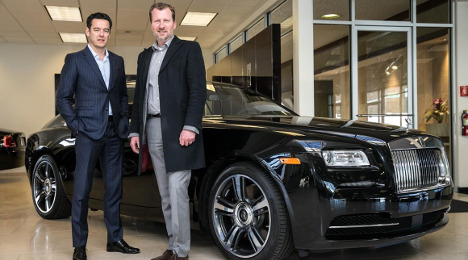 VANCOUVER, British Columbia -
OpenRoad Auto Group — one of the province's largest dealership groups with more than 900 associates representing 15 brands at 19 full-service dealerships — is expanding once again. But this time, it's in the United States.
On Friday, OpenRoad announced the acquisition of an established luxury dealership in Bellevue, Wash., that represents some of the most iconic brands in the world — Bentley, Lamborghini and Rolls-Royce Motor Cars.
"This is an incredible opportunity to grow our luxury lineup and expand our dealership group by entering into a new, world-class market that's only about a three-hour drive from Vancouver — or less if you're driving a Lamborghini," said Christian Chia, president and chief executive officer of OpenRoad Auto Group.
"We look forward to working with general manager Mark Maakestad and getting into the spirit of the Seattle Seahawks with the rest of his team," Chia continued.
The acquisition of Bentley, Lamborghini and Rolls-Royce Motor Cars Bellevue was completed on Jan. 19 and will be OpenRoad's first foray into the U.S. market. The addition of the Bellevue dealership follows OpenRoad's corporate strategy to expand existing relationships in key markets.
OpenRoad already owns and operates a Rolls-Royce dealership in Vancouver, while Bentley and Lamborghini are part of the VW Group of companies along with Audi and Porsche — three brands OpenRoad has proven to be successful with in Burnaby and Langley, British Columbia.
As demand for luxury and ultra-luxury brands continues to grow, so will production of exclusive new Bentley, Lamborghini and Rolls-Royce models.
In 2018, Rolls-Royce Motor Cars is slated to launch its flagship, Phantom Sedan and soon after an SUV code-named Cullinan. Lamborghini, the iconic Sant'Agata-based exotic car brand known for their V12 power plants and the iconic Miura sports coupe will continue to produce some of the best super cars in the world. Bentley Motors will mark its centennial anniversary in 2019 along with the company's celebrated history as the ultimate British luxury automobile icon.
OpenRoad's newest dealership is located in an urban center just 16 kilometers outside of Seattle in a region that's home to many of the world's leading companies, including Microsoft, Boeing, Starbucks, Nordstrom, Paccar, Costco and Amazon.