OpenRoad Walkathon generates nearly $47K for food banks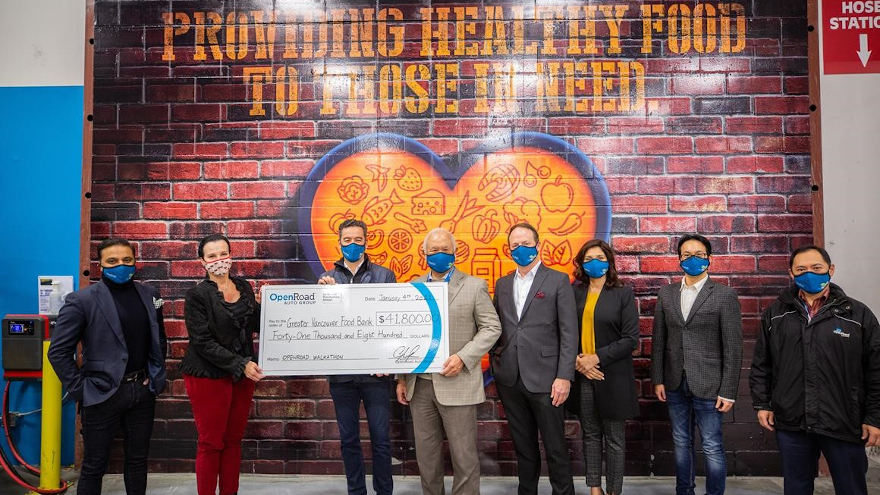 RICHMOND, British Columbia -
OpenRoad Auto Group raised close to $47,000 for local food banks in British Columbia and Ontario — literally one step at a time.
The company's dealership staff and corporate employees generated those funds through their inaugural OpenRoad Walkathon. Hundreds of OpenRoad staff associates from dealerships near Toronto and Vancouver as well as head office employees in Richmond, British Columbia, participated in the charitable endeavor during a 12-day stretch beginning on Dec. 2.
OpenRoad said it donated $5 for every kilometer walked based on staff donations and company matching funds.
"We're so proud of our entire team for hitting the pavement to raise funds for their local food banks," OpenRoad Auto Group chief executive officer Christian Chia said in a news release.
"We're really pleased to step up and do our part to help feed families that are in need of nutritious meals. It's been a challenging year for local food banks due to increased demand resulting from the pandemic," Chia continued.
The company said a national total of $46,800 was raised for regional food banks. OpenRoad's teams in Greater Vancouver and the Fraser Valley raised $41,800 for the Greater Vancouver Food Bank, while OpenRoad's two Brampton stores raised $5,000 for the GTA Food Banks.
OpenRoad pointed out that food banks in all regions are experiencing a significant decline in contributions while the need for support has increased during the pandemic.
Officials indicated the Greater Vancouver Food Bank (GVFB) supports about 6,000 people every week through their direct distribution across Vancouver, Burnaby, New Westminster and the North Shore. In the same communities, the GVFB also provides food support to around 21,000 people through their community agency partners, which includes after-school programs, homeless shelters, transition houses and more.
Officials said a quarter of GVFB clients are children and youth, and 18% are seniors.
"The GVFB often has twice the purchasing power, and sometimes even four times the power when they purchase items like eggs, apples and onions," OpenRoad said.
Officials noted the Greater Toronto Area Food Banks serve a combined 200,000 clients every year with contributions down and clients in need up by 22% to 200% by region. The GTA Food Banks report that 67% of clients skip meals each day to pay for other necessities like rent.
"For every dollar donated, the Greater Toronto Area food banks will be able to provide food to hungry children, seniors, families and neighbors," OpenRoad said.
OpenRoad's food bank donations were allocated to local food banks based on funds raised per region.
On Monday, OpenRoad's Vancouver team presented a donation of $41,800 to the Greater Vancouver Food Bank, while OpenRoad's Brampton team will present $5,000 to the GTA Food Banks later this month.
To make a food bank donation or for more information, visit the Greater Vancouver Food Bank or Greater Toronto Food Banks.