'Opportunity' in luxury events, used cars for Langley Auto Collection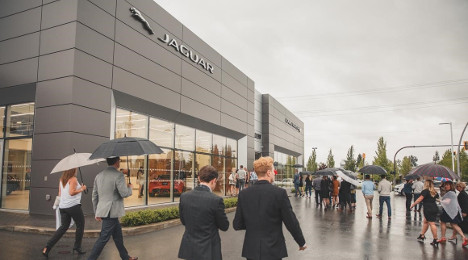 The Langley Auto Collection — a Vancouver-area luxury auto mall — held a "Tour de Gourmet" progressive dinner in June that not only spotlighted local cuisine, but helped raised money for two non-profits that provide financial assistance for children to participate in organized sports (KidSport Langley and Surrey-White Rock).
Additionally, the event also gave the five-store auto mall some nice exposure, as well.
Roughly 600 guests were split into four groups and then they rotated between four stores, each of which included the offerings of a celebrity chef, mixologist and some form of entertainment. The four groups came together at the end of the evening for a party at the mall's Porsche dealership.
Dimitri Kotsalis is the area manager for OpenRoad Auto Group, which owns four of the five stores.
Speaking to Auto Remarketing Canada by phone in July, he said the event gave The Langley Auto Collection some attention from a marketing perspective, with local media picking up the story.
"And also just from a branding perspective, and in that theme of bringing the best from the city to the (Fraser) Valley — because the Valley in Greater Vancouver is expanding rapidly," Kotsalis said. "It was once upon a time kind of a young bedroom community" but has since climbed in population, he said.
"And there's a lot of demand, an appetite for premium events, along with premium vehicles, and we thought, again, what a great way to marry the two and provide a really premium event and marry that with some premium automotive products," he said.
Similarly, the mall's Porsche Centre Langley store holds a "Coffee & Cars" event the first Sunday of each month from April to October.
"It's a fantastic opportunity (where) we got a lot of the real Porsche enthusiasts together, but it has spillover to other brands," including Italian sports cars, muscle brands and supercars, Kotsalis said.
Benefits from being together
Speaking of opportunity, being a luxury-only auto mall certainly affords The Langley Collection plenty of advantages.
"It allows us, first off, to be more targeted in our marketing. So, we can be a lot more focused on message, specifically to premium," Kotsalis said.
"So there's a big advantage for us in that sense, but as far as our clients are concerned and the people that we draw, a big advantage for them is just the convenience of having seven premium brands all in one location," he said.
"Of course, we all know that most research today is primarily done online, but there's still the tactile experience — especially in premium — where people really want to experience the look and feel of the finishes of the vehicle up close, and things that may matter a little bit more to a premium buyer or to the premium market than to mainstream," Kotsalis said.
"And of course, it gives people the opportunity to drive these cars, because that's still again a very big component," he said. "And when we speak to premium and especially when we start speaking about the performance side of premium — whether it's an M4 or a 911 — people want to drive them."
Pre-owned sales 'absolutely vital'
Used cars can be an important part of the business at the mall, whose five dealerships include Audi, BMW/MINI, Infiniti, Jaguar/Land Rover and Porsche stores.
"It's an entry into the market, certainly for a lot of people, and we take advantage of that however we can," Kotsalis said. "But the used-car business, in general, is absolutely vital to the mall and is an integral part of our business plan. So we work actually quite hard to maintain the trades and minimize any wholesale, and resell as much product as we can."
He said the auto mall is fortunate to be where it's located, where it has a "town and country feel," and allows them more space to hold more volume.
OpenRoad owns four of the five stores (the Audi store is not owned by the dealer group but is a partner in The Langley Auto Collection) and can hold pre-owned managers meetings regularly and move used inventory back and forth when needed and appropriate.
With pre-owned being such an important part of their business, it goes beyond the trade-ins they get; so a few months ago, they created a position of buyers specifically devoted to generating more used inventory for the mall, Kotsalis said.
He called this "absolutely vital for us," due to the fact that for many stores, new cars are limited to what is allocated by the OEM to the store, Kotsalis explained. Whereas there are no such limits on used.
"And it seems to be the more we acquire, the more we're able to sell," he said. "It's just the intensive efforts to have a smart purchase acquisition strategy and acquire as many as we can."